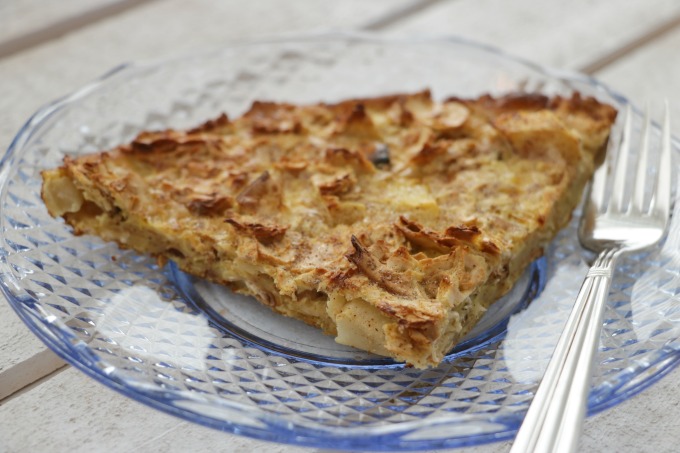 If you are like my family, you typically eat cereal, oatmeal, waffles or pancakes for breakfast.  If Passover has you looking for some quick new breakfast options, this no flip matzo brei pancake is it.  It comes together very quickly, you don't need to stand over the stove stirring or flipping and it's delicious.  My mini chefs helped make it and not only did we enjoy it for breakfast, but they also enjoyed snacking on it in the afternoon.
This recipe is based on my Chocolate Dutch Baby recipe.  You make the batter, pour it into a Dutch oven and then transfer it to an oven.  It's much easier than making individual pancakes.  A lot of matzo brei recipes call for soaking the matzo first in water and then stirring it after it gets added to the pan. This recipe takes away all that, making it very simple  You start by combining eggs, milk, salt, cinnamon and sugar.  Then crumble four sheets of matzo into the egg mixture.  Most of the matzo made it to the bowl, but some may have gotten eaten along the way.  Let that sit for about five minutes, until the matzo gets soaked.  Add the apples (bananas would also work well) and then pour the mixture into a Dutch oven.  Don't have a Dutch oven?  Use a pan that is okay to transfer to the oven but I highly recommend investing in a Dutch oven.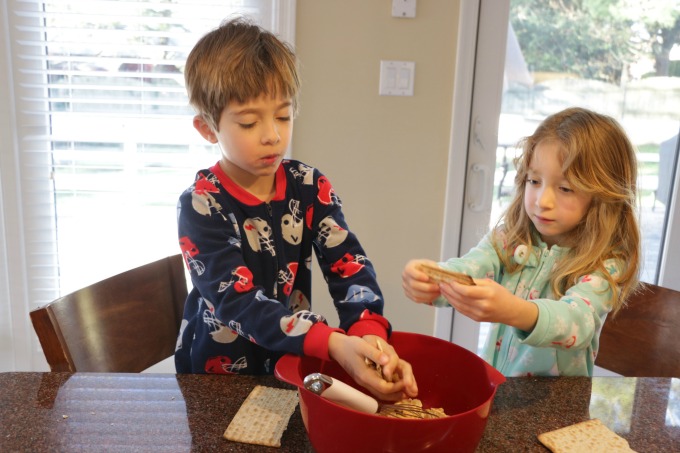 Bake that for twenty minutes and when it comes out, it will be browned on top.  Sprinkle some cinnamon sugar on top and slice it up.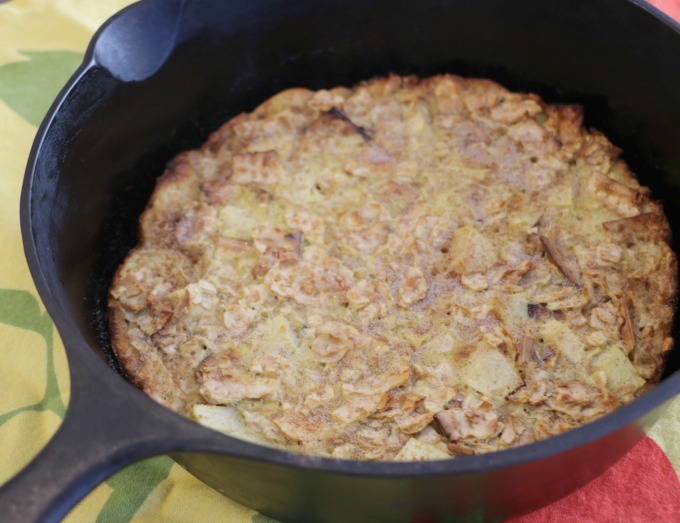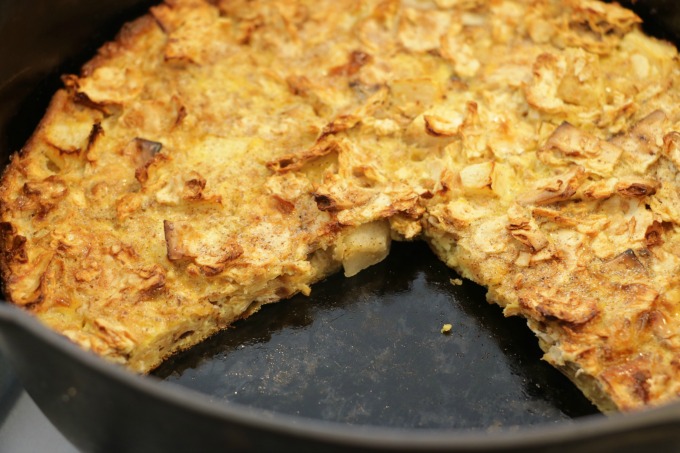 Serve with syrup but in my opinion, it doesn't really need anything else.  I cut some pieces up and brought them along for a long car ride and the kids enjoyed snacking on it.  This no flip matzo brei pancake is so easy to make.  Your Passover (or any day) mornings just got a lot tastier!
No Flip Matzo Brei Pancake
Ingredients
3 eggs
3/4 cup milk
1/2 teaspoon salt
1 teaspoon cinnamon
2 tablespoons granulated sugar
1 apple, peeled and chopped
4 sheets egg matzo
1 tablespoon butter, margarine or coconut oil
cinnamon sugar for sprinkling on top
Instructions
Preheat oven to 400. Combine eggs, milk, salt, cinnamon and sugar in a bowl. Crumble matzo into bowl and let sit for about 5 minutes for matzo to get soaked into egg mixture. Add apples. Heat a dutch oven over medium heat. Melt butter. Add egg mixture and let it cook for one minute. Transfer dutch oven to oven and bake for about 20 minutes, until top starts to brown and eggs seem to be set. Remove from oven and sprinkle with cinnamon sugar. Serve warm or at room temperature.
7.8.1.2
94
https://veggingonthemountain.com/2017/04/no-flip-matzo-brei-pancake/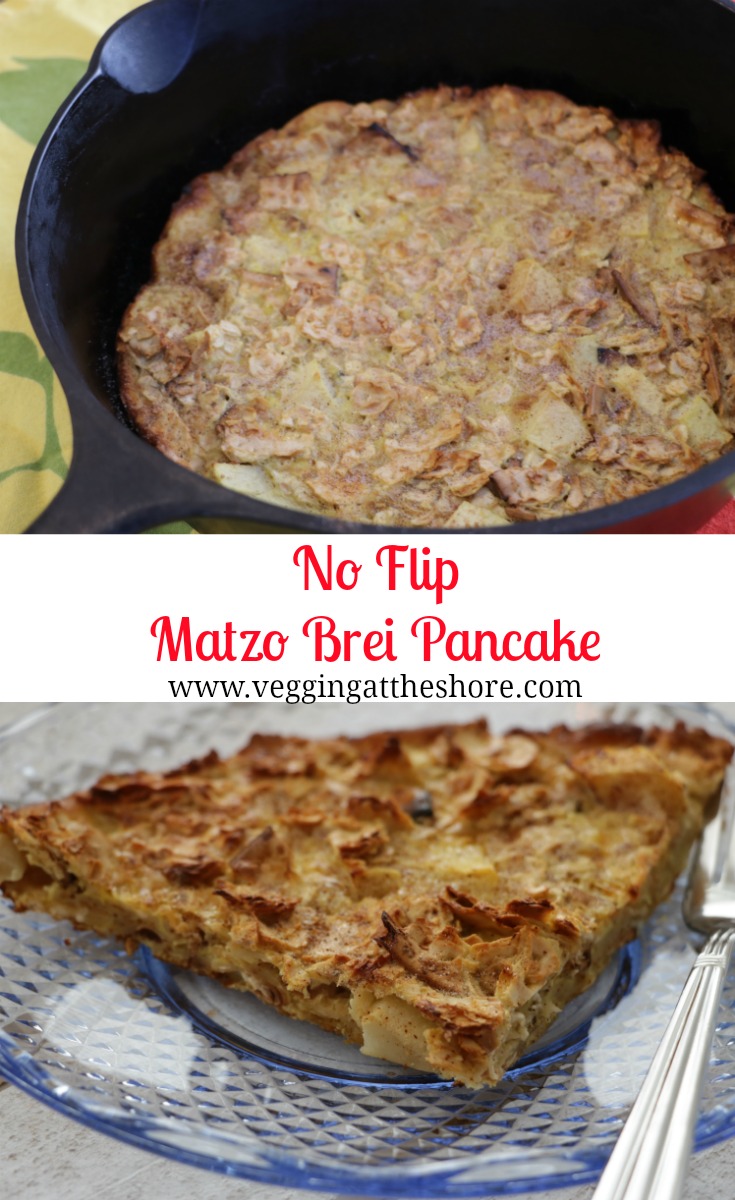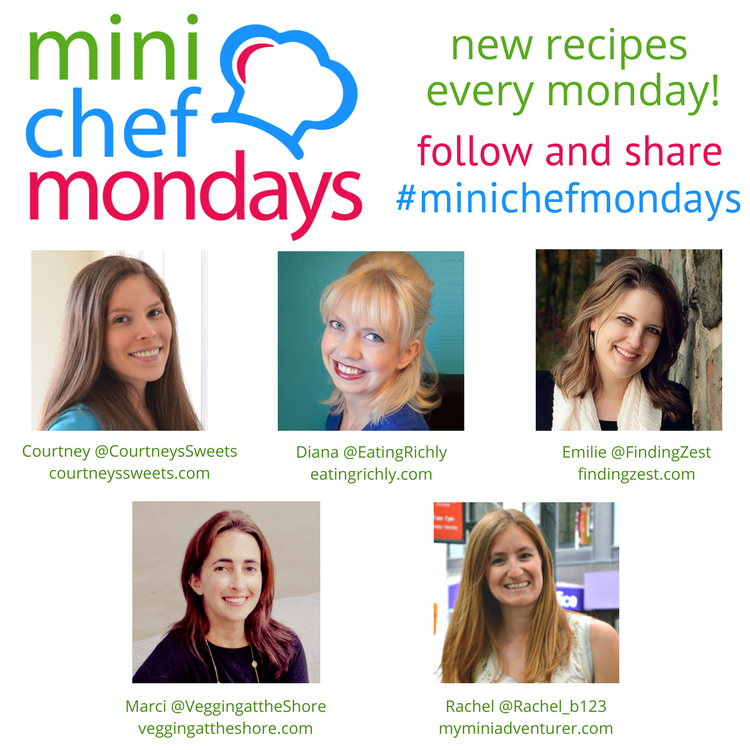 I am hosting Mini Chef Mondays along with 4 fabulous bloggers, find out more about the Mini Chef Mondays Team!
Join our facebook group to find even more recipes and share your own recipes!
Get featured and follow us too!
Be sure to check out each of their Mini Chef posts as well!