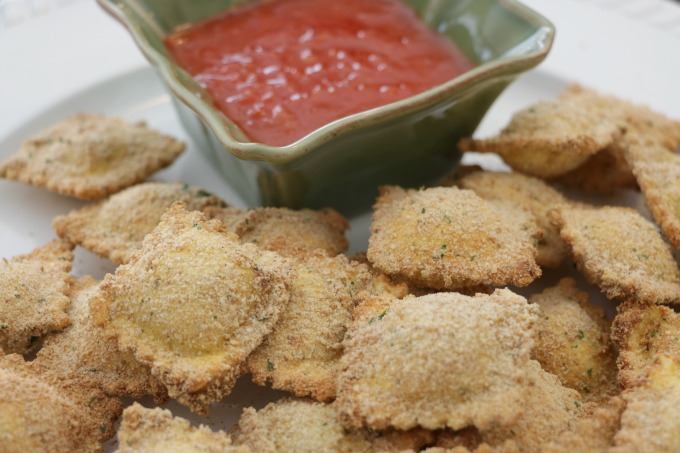 Do you ever head to the grocery store to pick up ingredients for dinner without fully knowing what you will make?  Toasted ravioli is the perfect recipe for busy weeknights because it only requires four ingredients and you can have it ready in no time.  Last week we got back from vacation around midnight after missing a connecting flight.  We were all exhausted the next day but I wanted to make an easy meal that required little to no thinking.  We made toasted ravioli and everyone loved it.  It almost seems too easy to share as a blog post but it's one of our favorites so we thought you would enjoy it too.  We fell in love with toasted ravioli after living in St. Louis years ago.  We've been making it ever since.
You start with store-bought ravioli.  There are great selections of ravioli in the supermarket these days. Spinach and cheese is one of our favorite flavor combinations.  Dip each ravioli in egg and then seasoned breadcrumbs.  Place the breaded ravioli on a baking sheet and cook for about fifteen minutes, until they start to crisp on the outside.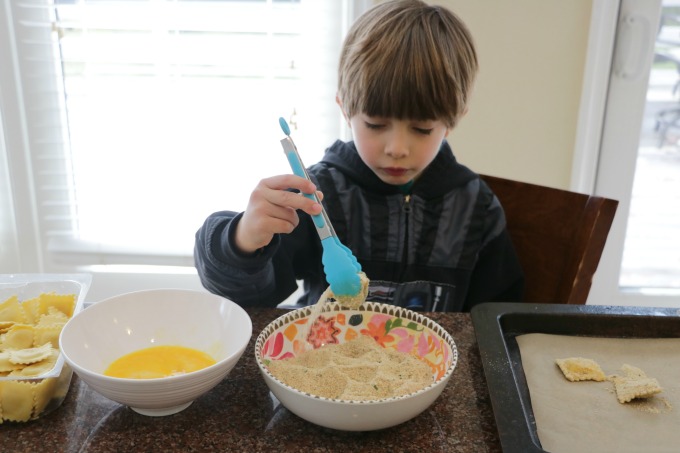 Serve the toasted ravioli with your favorite marinara sauce and add a green vegetable on the side.  You will have an easy and healthy meal ready in less than a half hour that everyone will enjoy.  Toasted ravioli is a great finger food which also makes it ideal for entertaining.  So easy and delicious!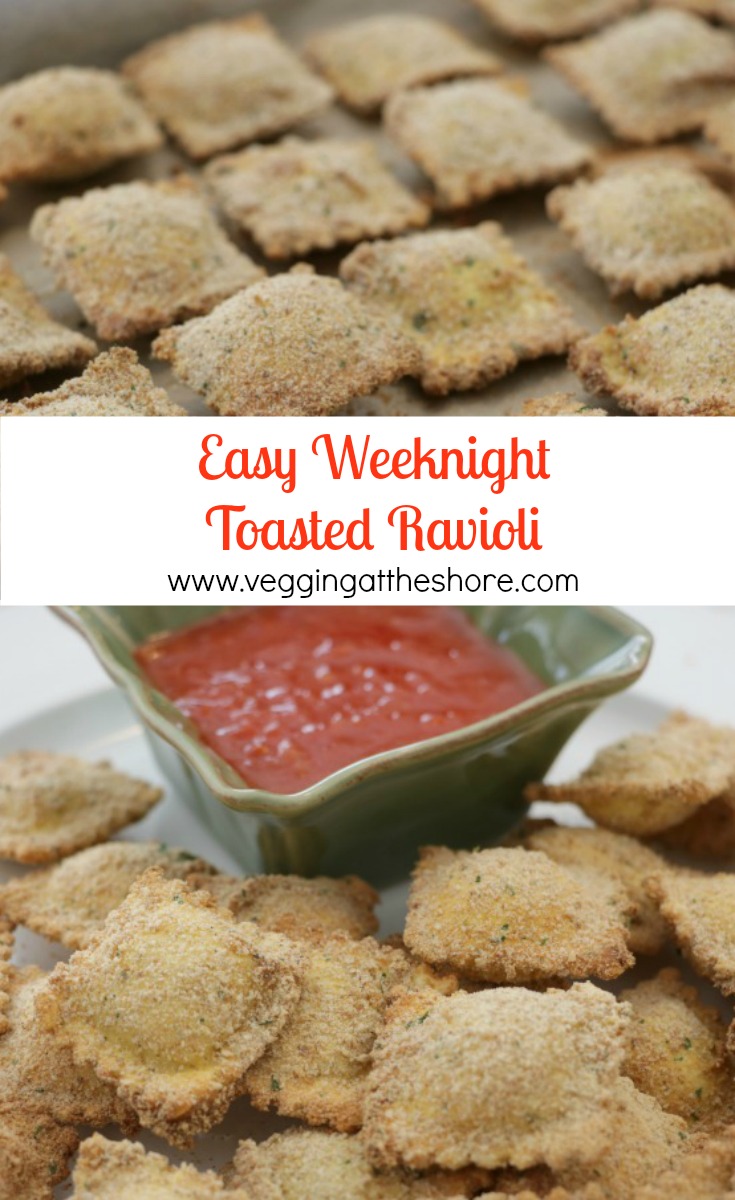 Easy Weeknight Toasted Ravioli
Ingredients
1 package store-bought ravioli
2 eggs, lightly beaten
2 cups seasoned breadcrumbs
your favorite jarred marinara sauce
Instructions
Preheat oven to 375. Line a baking sheet with parchment paper. Dip each ravioli in egg and then breadcrumbs. Place breaded ravioli on baking sheet. Bake for fifteen minutes or until crispy on outside. Serve with marinara sauce.
7.8.1.2
89
https://veggingonthemountain.com/2017/03/easy-weeknight-toasted-ravioli/
I am hosting Mini Chef Mondays along with 4 fabulous bloggers, find out more about the Mini Chef Mondays Team!
Join our facebook group to find even more recipes and share your own recipes!
Get featured and follow us too!
Be sure to check out each of their Mini Chef posts as well!