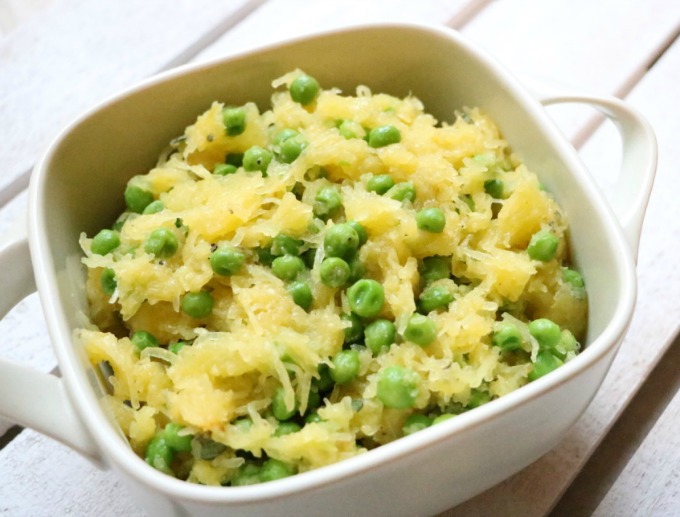 Something exciting has happened around here at Vegging at the Shore.  I got a new camera, a big girl camera!  Bear with me while I learn how to use it but be prepared for what will hopefully be a big improvement in the quality of my pictures.  I couldn't wait to shoot pictures for this week's Mini Chef Mondays post.  We received a spaghetti squash in our Door to Door Organics order last week so we set out to make this simple, yet flavorful dish of spaghetti squash with peas and parmesan.  If you have ever been intimidated by what to do with spaghetti squash, let me assure you it is easy to cook with and delicious.
You start by cutting off the ends of the squash, removing the seeds and brushing it with oil.  The squash gets roasted, cut side down for 45 minutes until it is soft.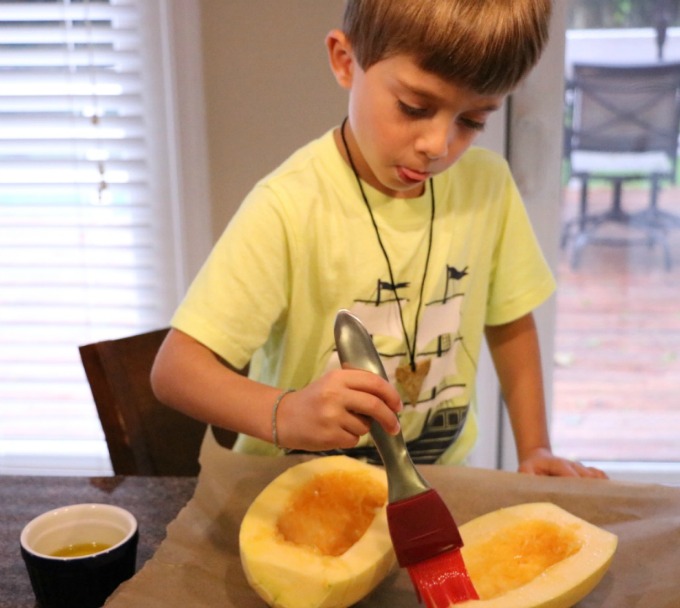 When the squash comes out of the oven, carefully turn it over with tongs and lay some butter on each side to let it melt while the squash cools slightly.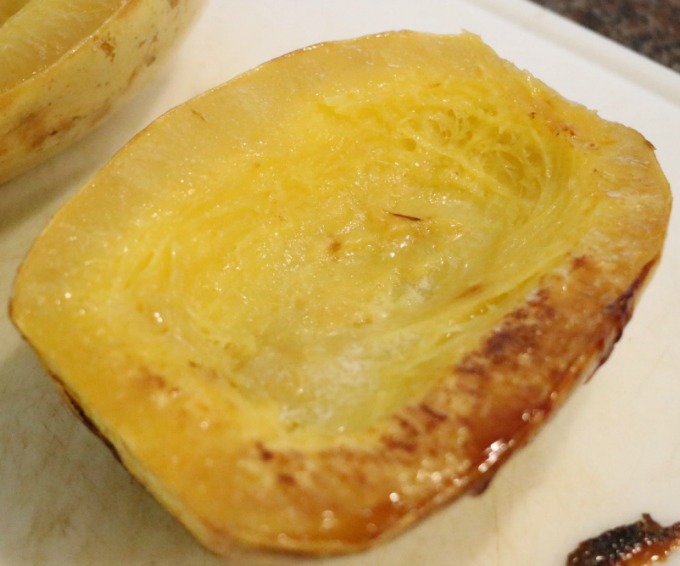 Next you want to take a fork to shred the squash which will resemble spaghetti.  My daughter loved doing this part.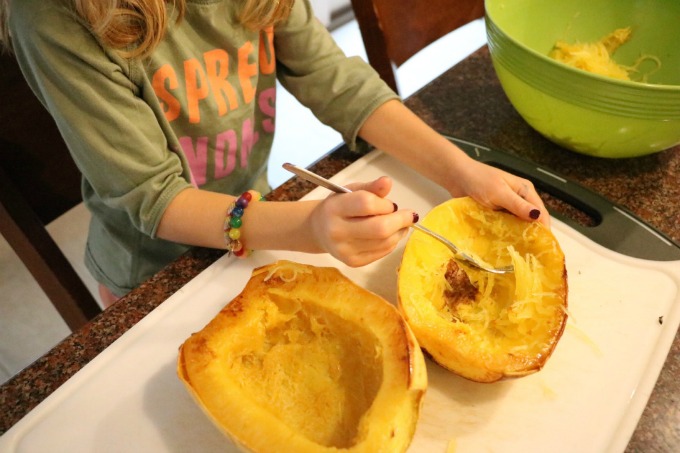 To the shredded squash you want to then add peas, parmesan cheese, chopped fresh sage and seasoning.  The fresh sage makes this dish pop.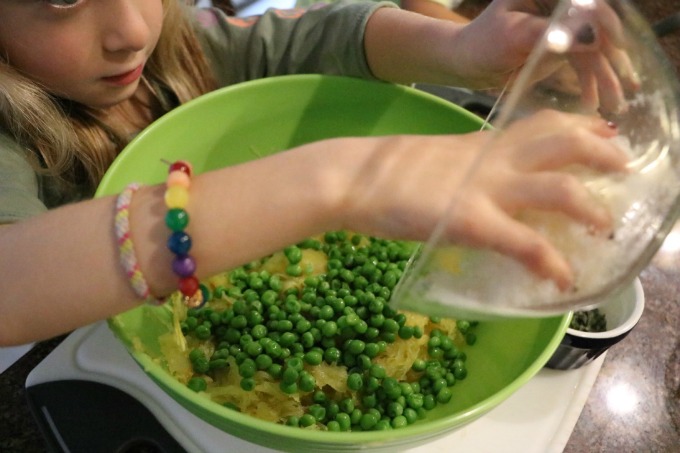 Toss it all together for a simple, healthy, side dish that everyone will enjoy!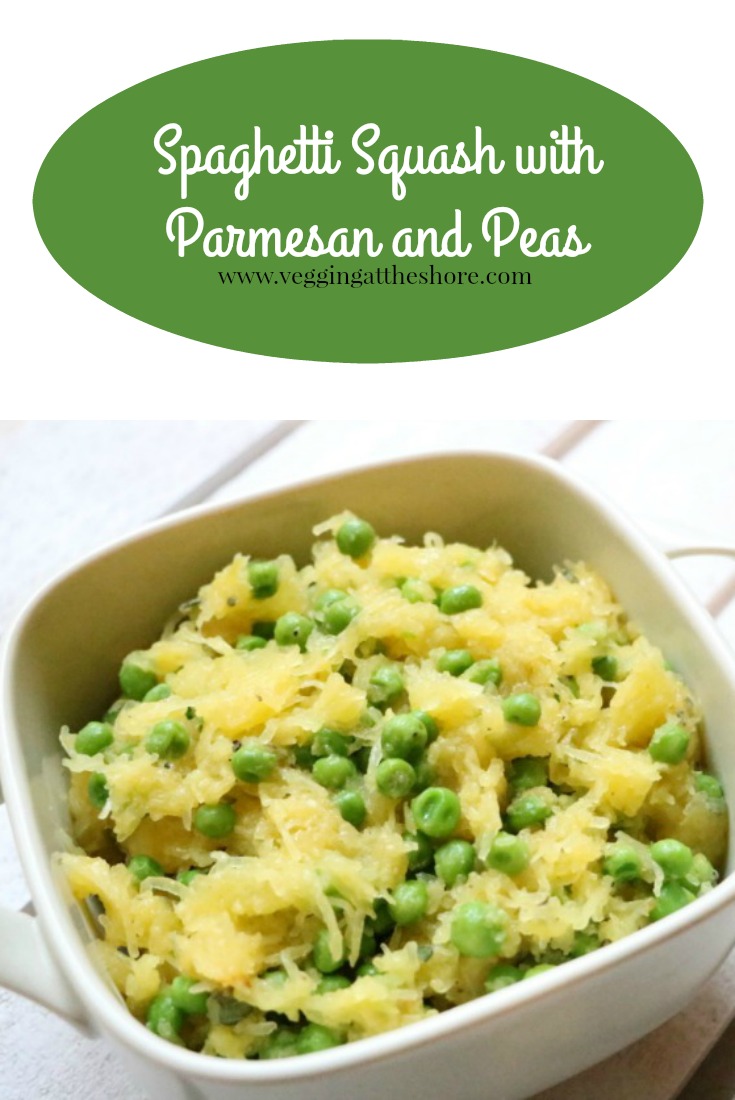 Spaghetti Squash with Peas and Parmesan
Ingredients
1 spaghetti squash, ends cut off and cut in half from top to bottom
1/2 tablespoon olive oil
1 tablespoon unsalted butter
1 cup frozen peas, defrosted and drained
1/2 cup freshly grated parmesan cheese
1 teaspoon chopped fresh sage
salt and pepper to taste
Instructions
Preheat oven to 400. Scrape seeds out of spaghetti squash and brush both sides with olive oil. Place cut sides down on a parchment lined baking sheet. Cook for 45 minutes. Remove from oven. Carefully turn squash over and divide butter between both halves. Allow butter to melt and squash to cool slightly. Using a fork, scrape insides out of squash and place in bowl. Add peas, parmesan cheese, sage and seasoning. Stir to combine.
7.8.1.2
57
https://veggingonthemountain.com/2016/10/spaghetti-squash-with-peas-and-parmesan/
I am hosting Mini Chef Mondays along with 5 fabulous bloggers, find out more about the Mini Chef Mondays Team!
Join our facebook group to find even more recipes and share recipes too!
Get featured and follow us too!
Be sure to check out each of their Mini Chef posts as well!