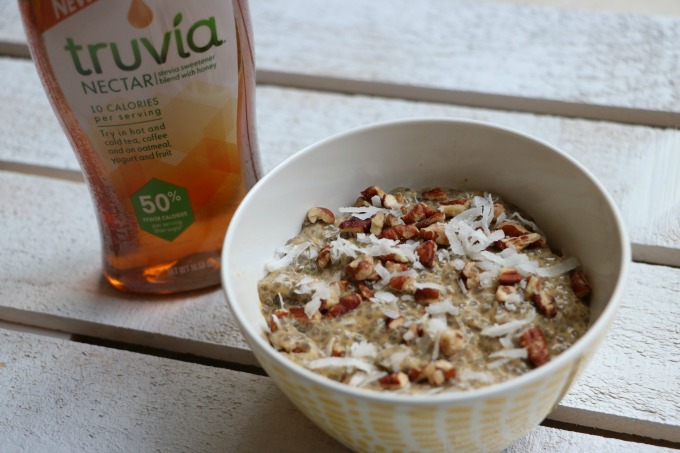 My kids are like most kids in that they love sweets.  I am like most moms in that I want their sweets to be healthy.  This isn't always easy especially when you look at processed foods which draws their attention at the supermarket.  Whenever possible I try to make sweet treats that I feel good about giving them and this recipe for pumpkin chia pudding is just that.  It's a perfect balance of healthy and sweet.  I came up with this simple clean recipe to provide them with a good snack at school or after meals.  It took a few minutes to put together and everyone loved it.
Have you tried chia seeds?  If the answer is no I highly recommend them.  Chia seeds are a superfood loaded with calcium and protein that are a great source of energy.  Now let's talk sweetener.  For this recipe I used Truvia Nectar, which is a honey-stevia blend that has all the sweetness of honey with half the calories.  I simply combined almond milk (any milk would work), chia seeds, pumpkin and Truvia Nectar.  Give that a good stir and let it sit in the refrigerator overnight.  You can simply enjoy it as is or add some of your favorite toppings like chopped pecans, coconut or chocolate chips.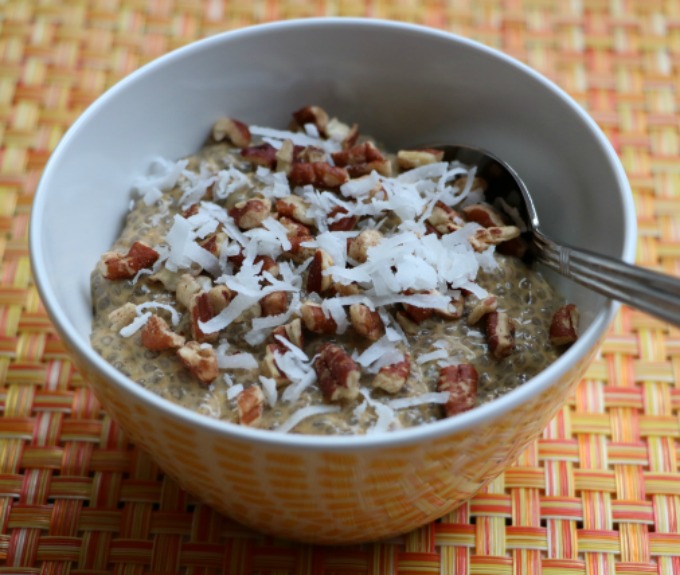 Fall is all about pumpkin and this recipe for pumpkin chia pudding is the perfect snack or sweet treat that you can feel good about eating!
Ingredients
1.5 cups almond milk or milk of your choice
1/2 cup pumpkin puree
1 teaspoon Truvia Nectar
6 tablespoons chia seeds
optional toppings: chopped pecans, shredded coconut, mini chocolate chips
Instructions
Combine milk, pumpkin, Truvia Nectar and chia seeds. Stir well and cover. Place in refrigerator overnight. Add toppings if desired.
7.8.1.2
59
http://veggingattheshore.com/2016/10/pumpkin-chia-pudding/