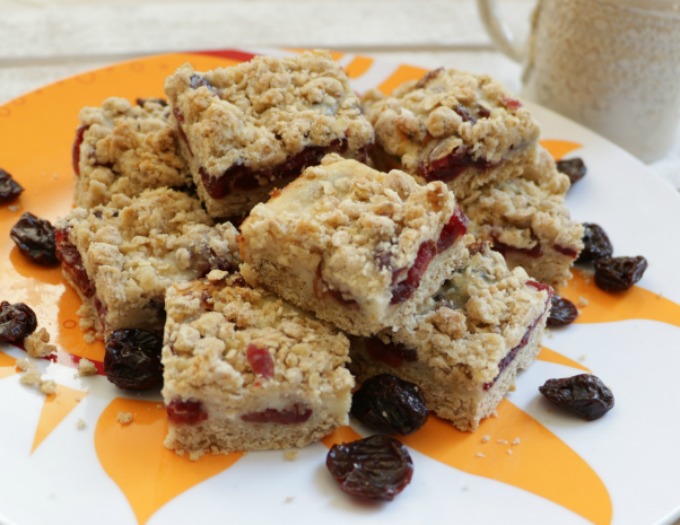 This recipe for Cranberry Oatmeal Bars is one that you will want to keep in your recipe arsenal.  It's a quick and perfect treat to make for brunch, an afternoon snack, Thanksgiving dessert or just anytime. The nice thing about this recipe is that you don't need to cook the crust first, it all just gets cooked one time in the oven.  It's very seasonal for this time of year with dried cranberries but we actually make these bars all year round.
You start by mixing together the dry ingredients of flour, oats and spices.  To that you add melted butter and fresh squeezed orange juice.  My mini chefs love squeezing juice out of citrus fruits.  My kids received these adorable mini chef jackets as gifts from their grandparents and when I told my told daughter it was time for Mini Chef Mondays, she ran to get hers.  Looking for a cute gift for the holidays?  My kids love their chef coats.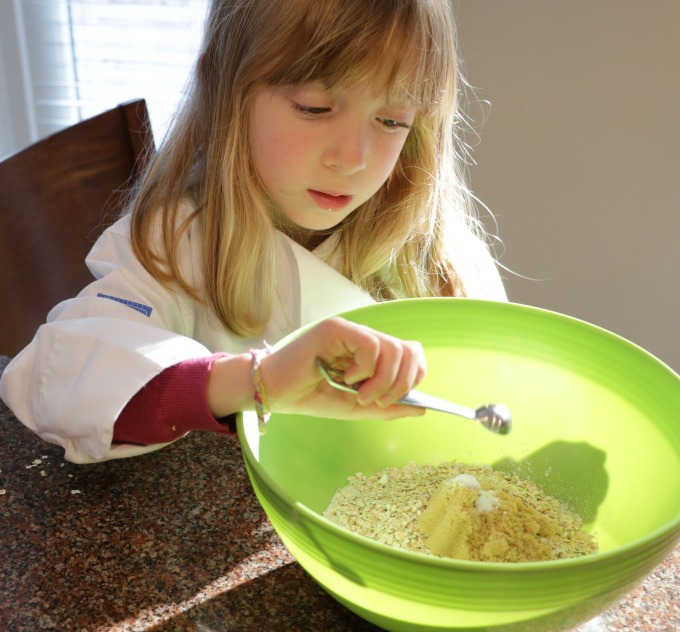 For the filling you mix together cranberries, sour cream, vanilla extract, orange rind, and an egg white. You add that on top of the crust and then top it with some reserved oat topping.  Cook that for about 40 minutes and then cut it into bars.  My kids love this as dessert but I love one of these bars in the afternoon with tea.  Either way, these bars are the perfect amount of sweetness and are so easy to whip up.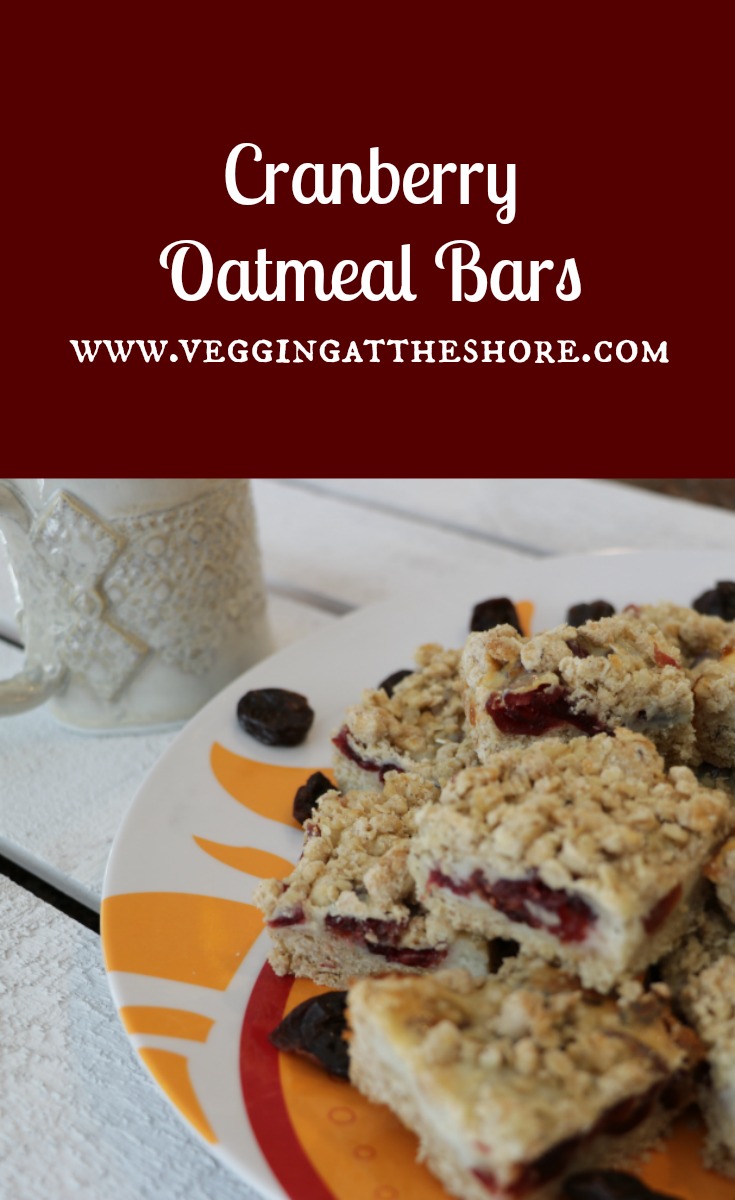 Ingredients
Crust
1 cup all purpose flour
1 cup quick-cooking oats
1/4 cup light brown sugar
1/4 teaspoon salt
1/4 teaspoon baking soda
1/4 teaspoon cinnamon
6 tablespoons melted butter
3 tablespoons orange juice
Filling
1 1/3 cup dried cranberries
3/4 cup sour cream
1/4 cup granulated sugar
2 tablespoons all-purpose flour
1 teaspoon vanilla extract
1/2 teaspoon grated orange rind
1 egg white, lightly beaten
Instructions
Preheat oven to 325. To prepare crust combine flour through cinnamon in a medium bowl and whisk together. Add melted butter and orange juice. Stir until moistened. Reserve 1/2 cup of this mixture. Pour the rest into a greased 8X8 baking pan coated in cooking spray.
To prepare filling combine cranberries through egg white in a medium bowl. Spread in pan on top of oat mixture. Using hands, crumble reserved oat mixture on top. Bake for 40 minutes until edges are golden. When completely cool, cut into bars.
Notes
Recipe adapted from Cooking Light
7.8.1.2
65
http://veggingonthemountain.com/2016/10/cranberry-oatmeal-bars/
I am hosting Mini Chef Mondays along with 5 fabulous bloggers, find out more about the Mini Chef Mondays Team!
Join our facebook group to find even more recipes and share recipes too!
Get featured and follow us too!
Be sure to check out each of their Mini Chef posts as well!