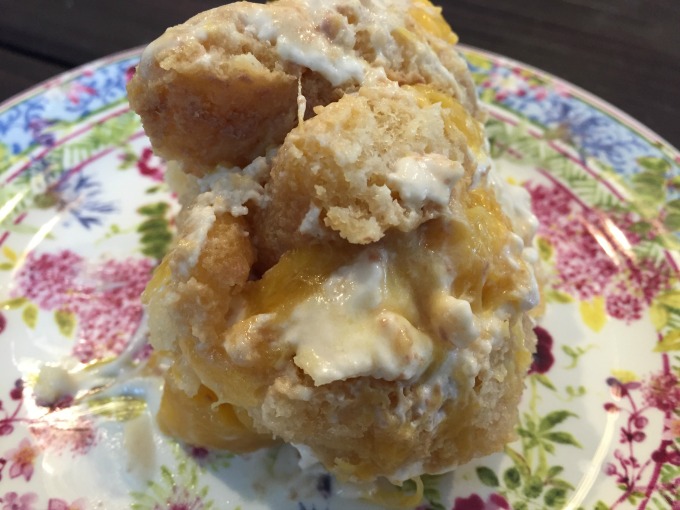 Once again, my husband gets credit for this recipe.  Last week I was considering entering the peach pie contest at our local farmers market.  I asked my family if we should go with our award winning recipe from two years ago or something new and my husband suggested peach tiramisu.  Tiramisu is his favorite recipe, EVER.  I ultimately decided not to enter the contest but couldn't get the idea of peach tiramisu out of my head.  So the kids and I discussed how the recipe would go, and we created it.  It turned out perfect.  It was gone in two days and I'm already planning when to make it again.
We started by cooking some fresh peach slices in butter and sugar.
Next we made the cream mixture.  Typically tiramisu contains mascarpone cheese.  I use light cream cheese in place of the mascarpone to lighten things up.  We mixed that with sugar, vanilla extract and whipping cream.  To that we added 2 tablespoons of decaffeinated coffee to give it a subtle coffee taste.
In traditional tiramisu ladyfingers are dipped in coffee but for our recipe we dipped ladyfingers in peach nectar.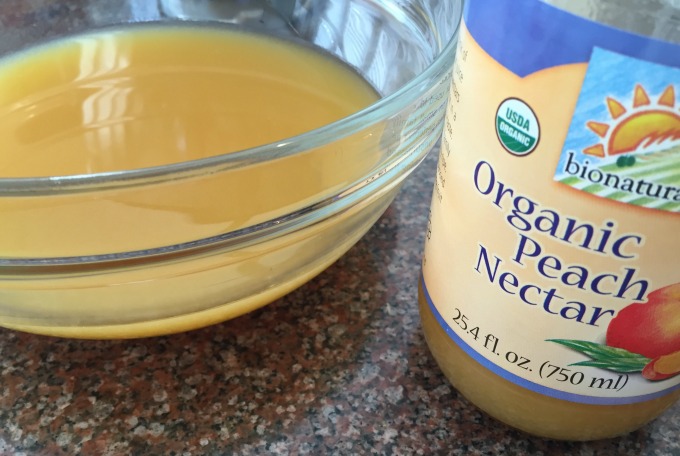 We got to work with our layers.  We started with a layer of dipped ladyfingers, followed by the cream mixture, then peaches and topped with shaved chocolate.  I was recently sent some delicious chocolate to try from Sugarpova Chocolate, a new line of fine chocolates from Maria Sharapova.  The kids devoured whatever chocolate we didn't need for the recipe.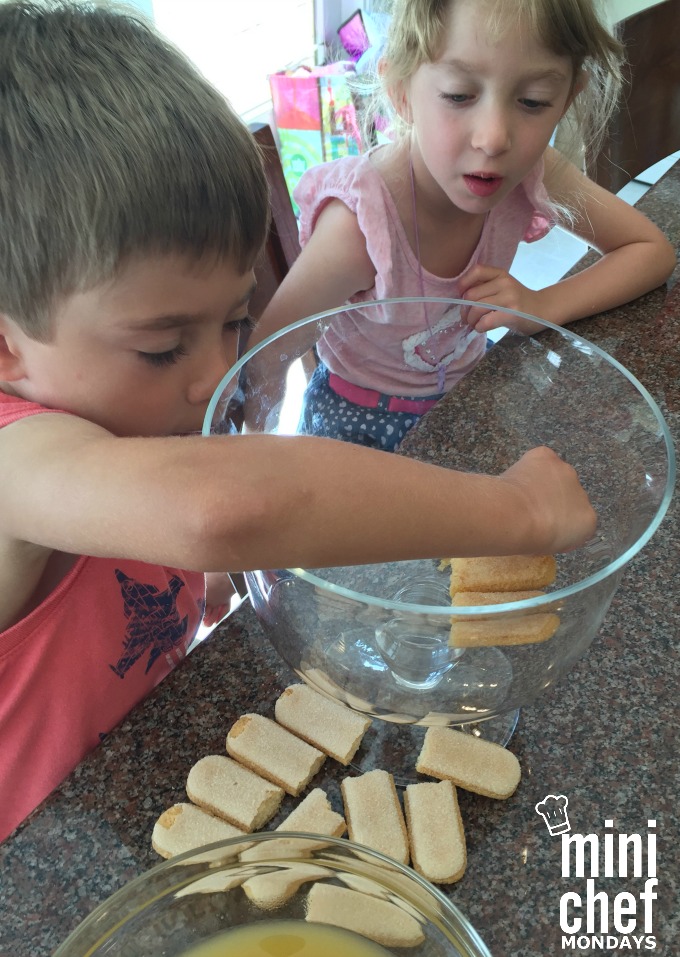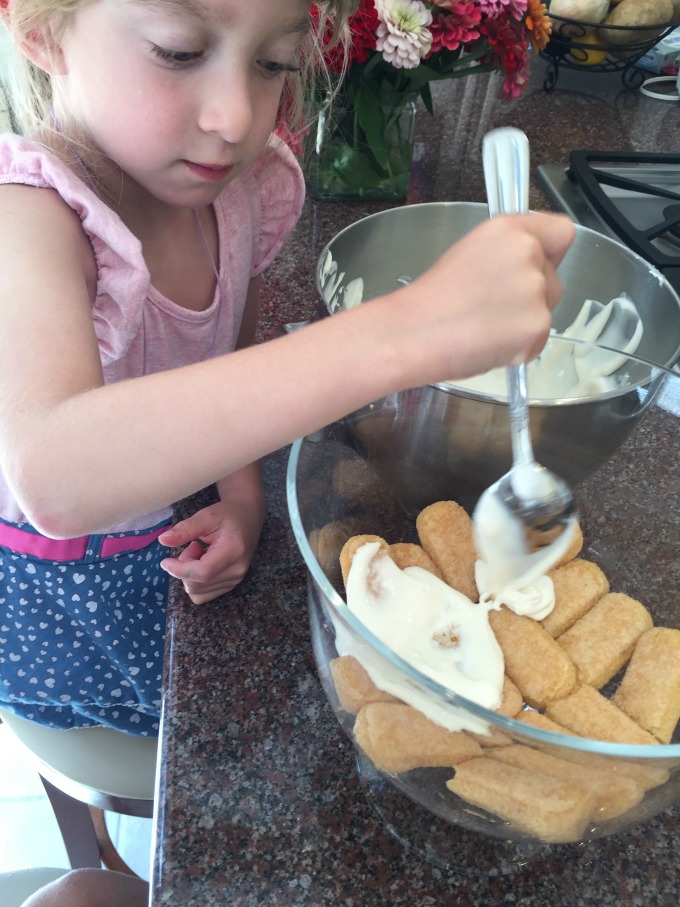 We did three layers of that and then refrigerated it for a few hours.  This is going to be our new summer recipe.  If you invite us over, chances are we will show up with this peach tiramisu!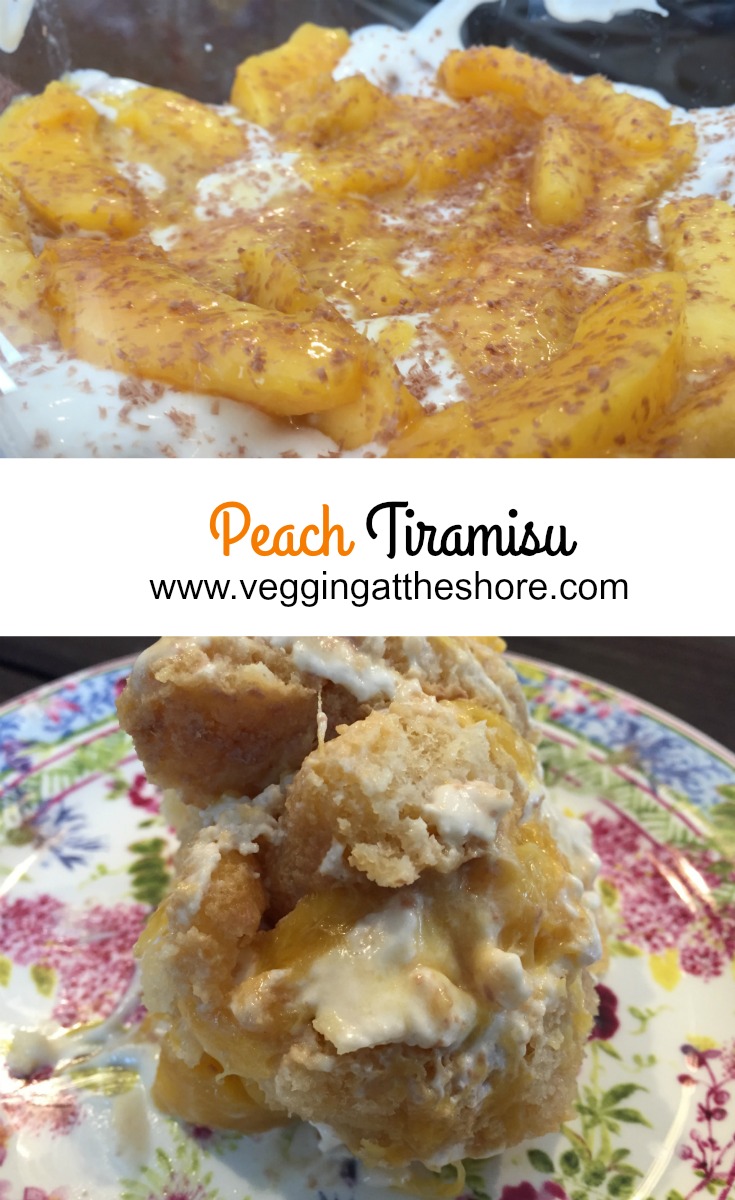 Ingredients
6 large peaches, peeled and sliced
1 tablespoon unsalted butter
1 tablespoon granulated sugar
1/4 cup whipping cream
8 oz cream cheese softened (I used 1/3 less fat, you could also use mascarpone cheese)
1/4 cup granulated sugar
1 teaspoon vanilla extract
1 tablespoon decaffeinated coffee
about 30 ladyfingers
2 cups peach nectar
1 bar of good chocolate
Instructions
Melt butter in a saucepan over medium heat. Add peaches and 1 tablespoon sugar. Cook, stirring for about four minutes until peaches become syrupy. Remove from heat and set aside.
In a medium bowl using a hand mixer, beat whipping cream until soft peaks form. In a stand mixer, combine cream cheese, 1/4 cup granulated sugar, vanilla extract and coffee until well mixed. Fold in whipped cream. Set aside.
Pour peach nectar into a bowl. You can use a trifle dish or other deep dish to begin layers. Working with 1 ladyfinger at a time, dip each in peach nectar and place in bottom of dish. Add enough to cover bottom. Add 1/3 of cream mixture followed by 1/3 of peaches. Using a grater or microplane, grate chocolate on top of peaches. Repeat with another 2 layers finishing with grated chocolate. Cover and refrigerate for at least 2 hours.
7.8.1.2
38
https://veggingonthemountain.com/2016/07/peach-tiramisu/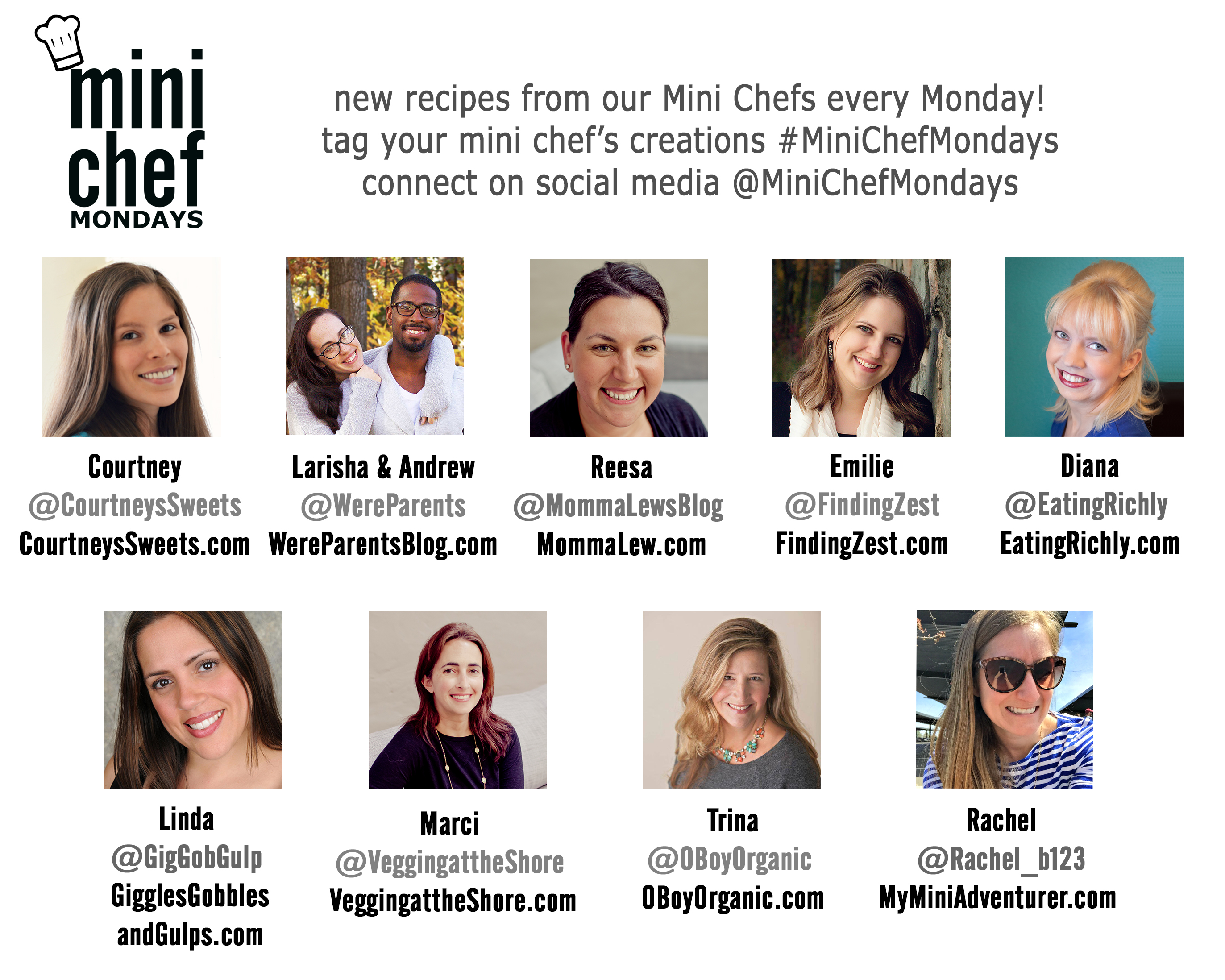 I am hosting Mini Chef Mondays along with 8 fabulous bloggers! Read how Mini Chef Mondays started, plus how to link up!
Join our facebook group to find even more recipes and share recipes too!
Join the Mini Chef Mondays newsletter to get the latest recipes delivered to your email each week! Don't worry, we will only use your email for Mini Chef Mondays recipes, pinky promise!
Get featured and follow us too!
Be sure to check out each of their Mini Chef posts as well!