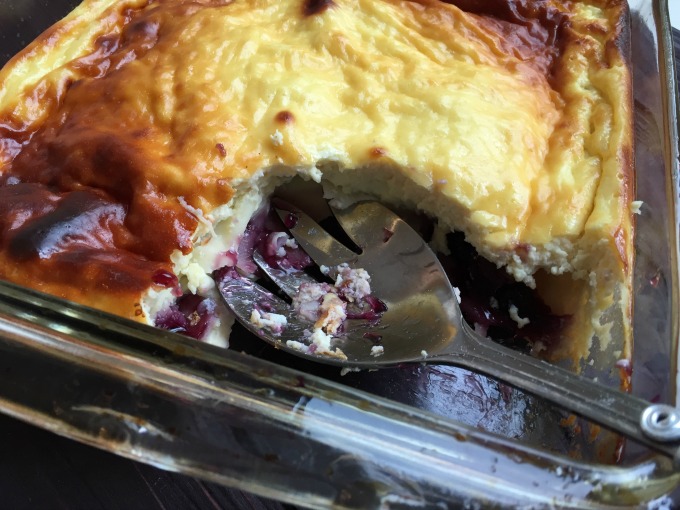 Long before the age of Pinterest there was something called recipe cards where people would actually write recipes out by hand.  Crazy, right?  This recipe card is from my mom and I treasure it.  First, because it's a great recipe that she's been making for years.  But also because it reminds me of my mom.  Her handwriting is nearly impossible to read, but it's from her and one day I will pass it along to my daughter who will pass it along to her daughter.  I hope she will make it one day for her children and remember that it was a recipe her grandmother made.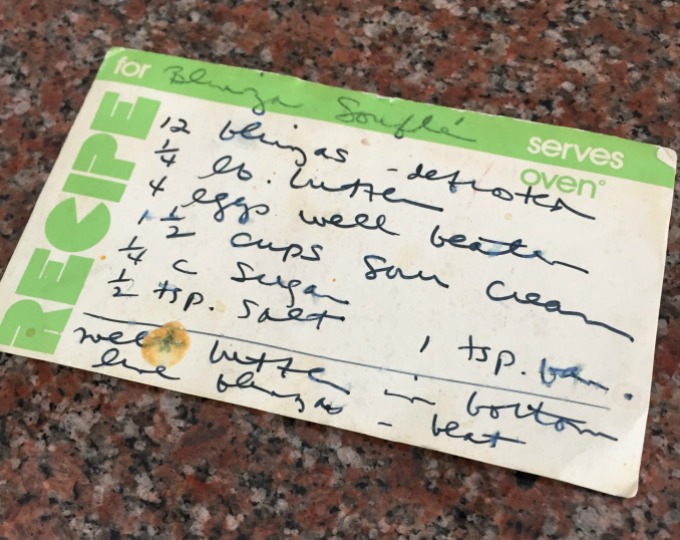 One of my favorite things about Mother's Day is brunch.  I rarely eat a leisurely brunch but on Mother's Day I love to.  Brunch doesn't have to be time-consuming to prepare.  I usually like to pick up some bagels and spreads and have a couple of homemade dishes.  This recipe is so easy and delicious.  It only takes a few minutes to get in the oven.  You start with defrosted blintzes.  Not familiar with blintzes?  They are crepes filled with cheese or fruit.  We made our own cheese blintzes with strawberry sauce recently.  They are so good homemade, but time-consuming.  Store-bought blintzes work great in this recipe.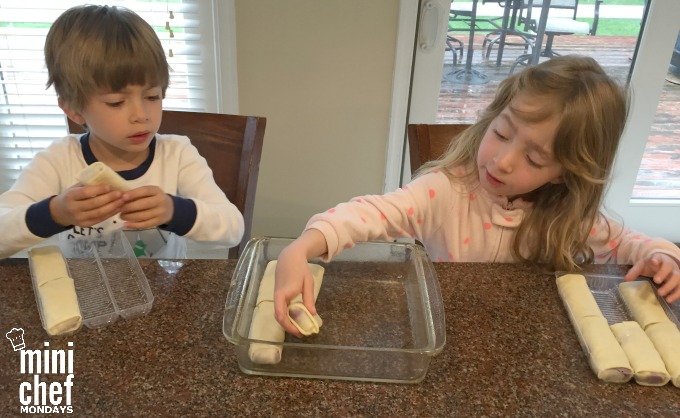 Next combine eggs, sour cream, sugar, salt and vanilla extract.
Pour the batter over the blintzes and let that cook for almost an hour, until the top is custardy and browned.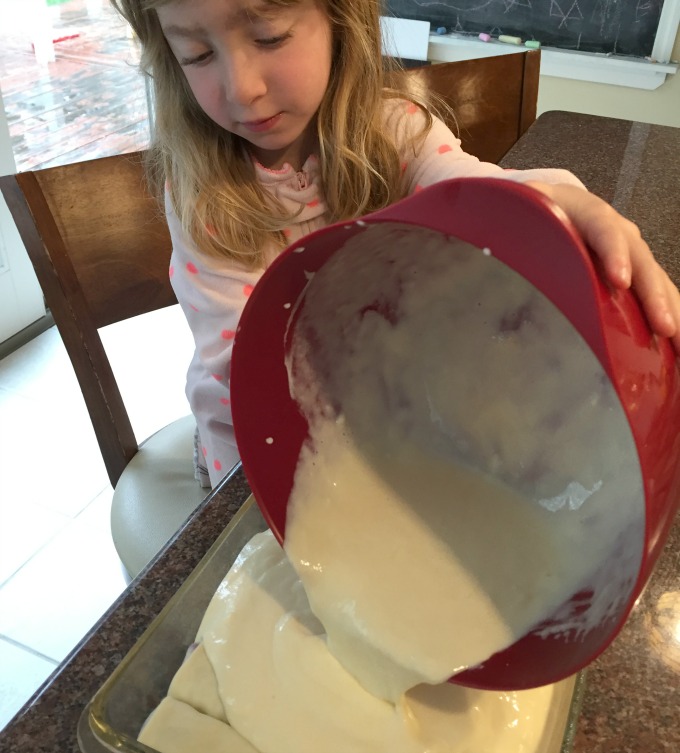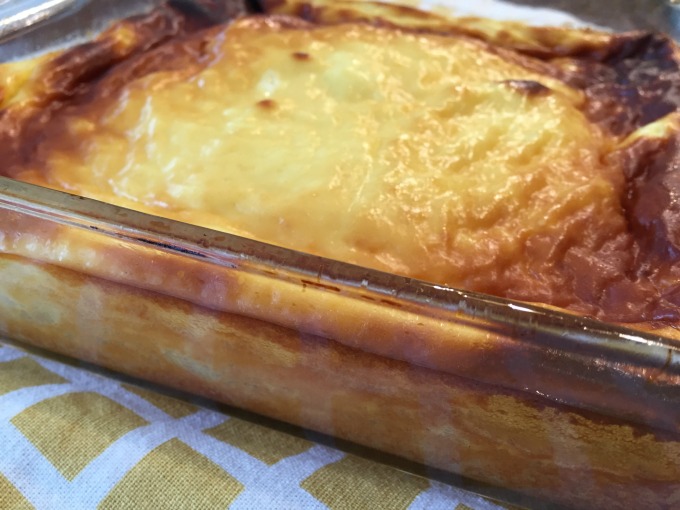 If you are hosting brunch, put this on your menu.  If you are having a low-key Mother's Day and you are lucky enough to get breakfast in bed, pick up the ingredients and leave a copy of the recipe on the kitchen counter as a hint to what you want to eat.  Happy Mother's Day to all the fabulous moms out there!
Perfect for Brunch Blintz Souffle
Ingredients
10-12 blintzes, defrosted (cheese or fruit-filled)
4 eggs, beaten
1.5 cups light sour cream
1/4 cup granulated sugar
1/4 teaspoon salt
1 teaspoon vanilla extract
Instructions
Preheat oven to 350. Spray an 8-inch baking dish with cooking spray. Arrange blintzes in dish. I was able to fit 10 blintzes in mine. In a mixing bowl combine eggs, sour cream, sugar, salt and vanilla. Pour over blintzes and cook for 45 minutes to an hour, until top is brown and bubbly. Let cool slightly and serve.
7.8.1.2
16
https://veggingonthemountain.com/2016/05/perfect-for-brunch-blintz-souffle/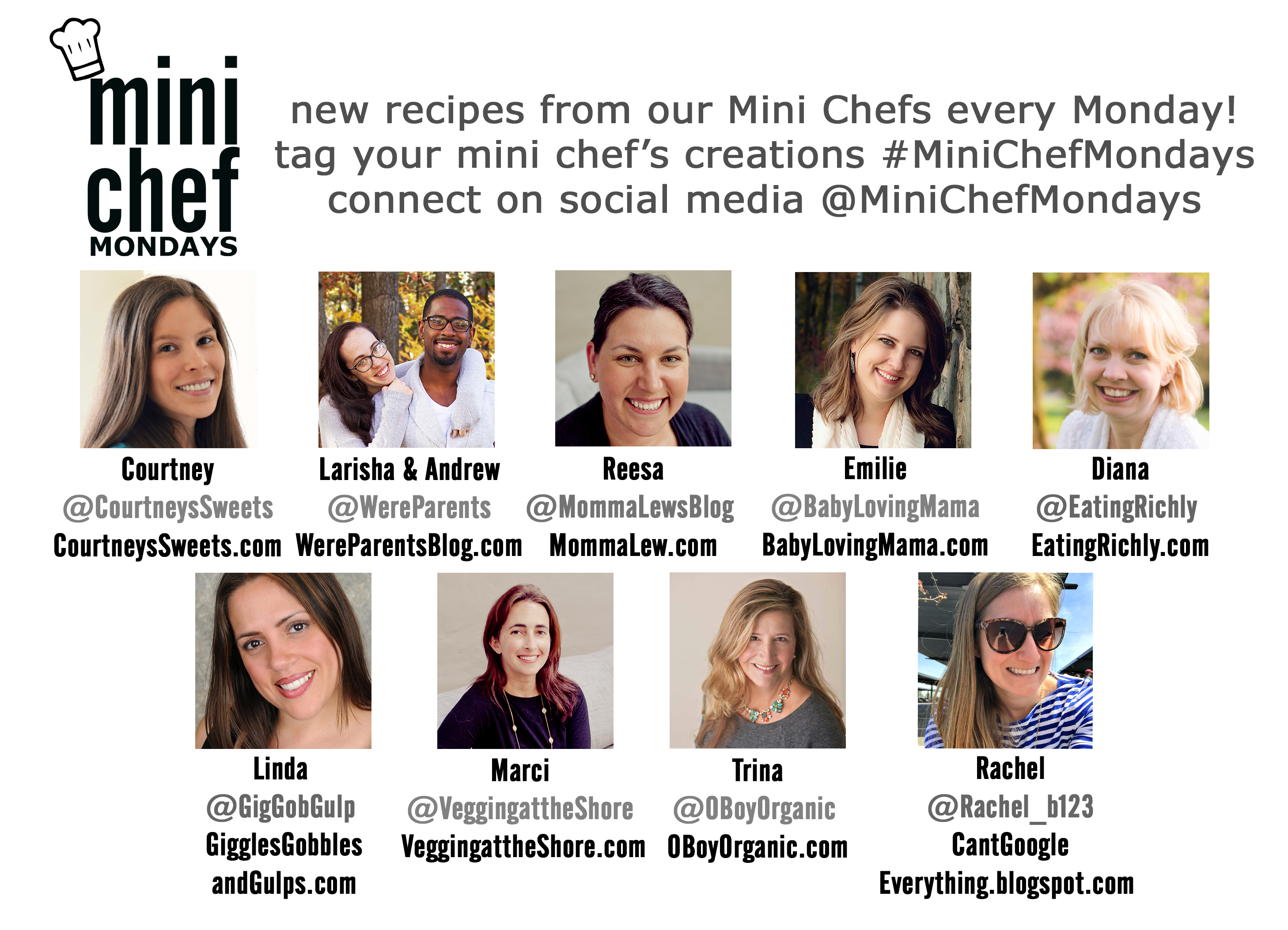 I am hosting Mini Chef Mondays along with 8 fabulous bloggers! Read how Mini Chef Mondays started, plus how to link up!
Join our facebook group to find even more recipes and share recipes too!
Get featured and follow us too!
Be sure to check out each of their Mini Chef posts as well!