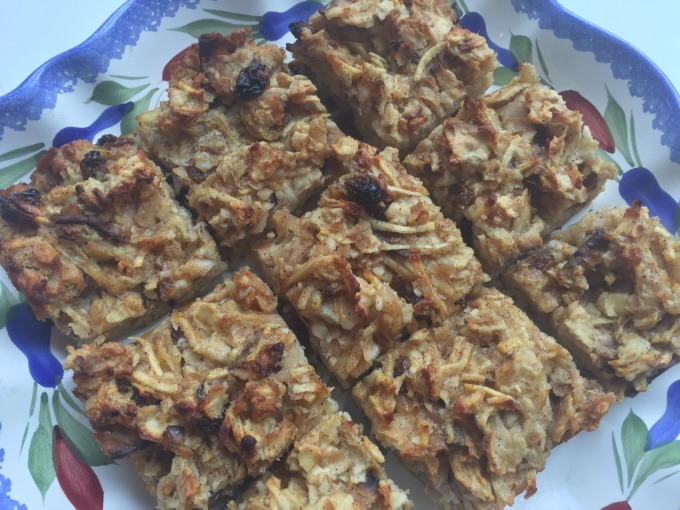 I love the idea of holiday cooking traditions.  Growing up I distinctly remember watching or helping my mom make certain holiday foods.  Now that I have children of my own I try to do the same with them so that they can pass on family recipes to their children.  We always make challah at Rosh Hashanah and they make pumpkin bread at Thanksgiving with their grandmother.  Passover is coming up and our standard recipe that we always make is macaroons (so easy and so good).  I wanted to try something else to add to our traditions, a Passover recipe that would be both fun for them to help with and delicious to eat.  We came up with this recipe for Apple Noodle Kugel that turned out just perfect.
So you might be thinking, noodles at Passover?  Doesn't she know pasta isn't eaten during Passover?  The answer is yes, I know and instead of pasta noodles we made apple noodles with our spiralizer.  If you don't have a spiralizer (get one immediately!) you can shred the apples in a food processor or cut them up small by hand.  Cut the ends off of the apples, peel them and put them through the spiralizer.  If you see any seeds that get mixed into your noodles, just pick them out.  We only had a few.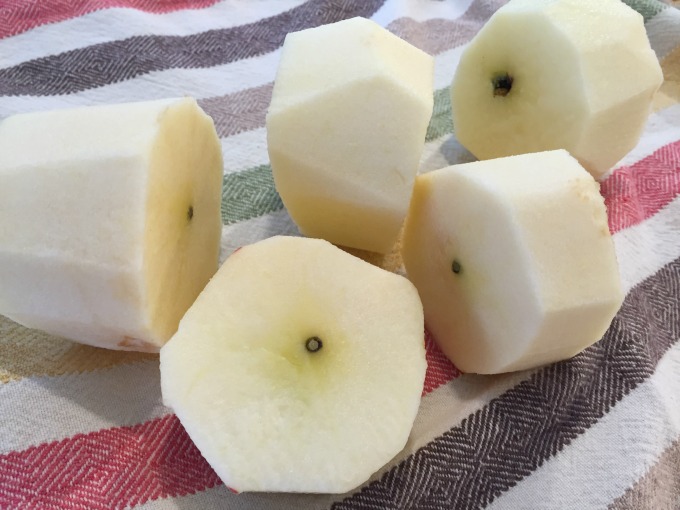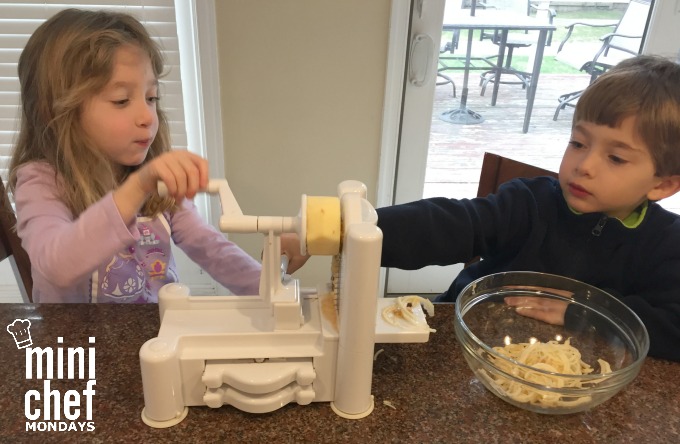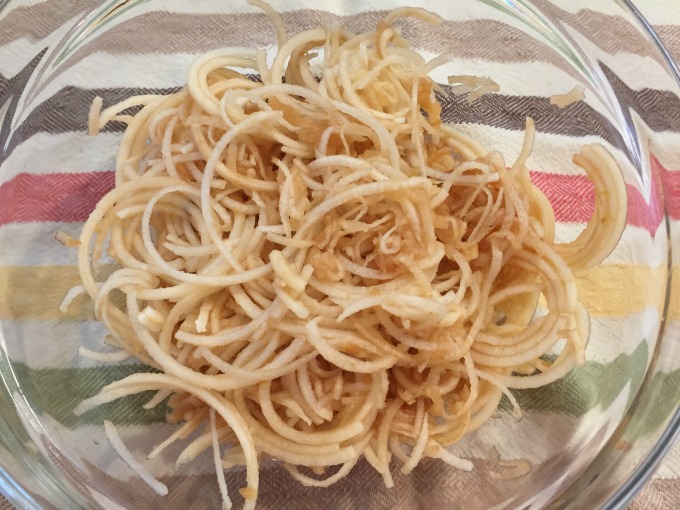 Next break up four sheets of matzoh and soak them in water for a few minutes.  This gets messy with small hands helping but anything can be cleaned.  The mess is just part of the process!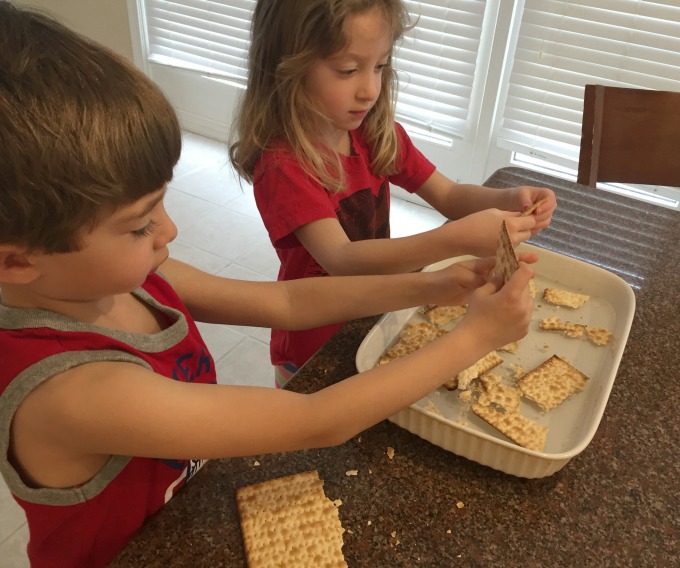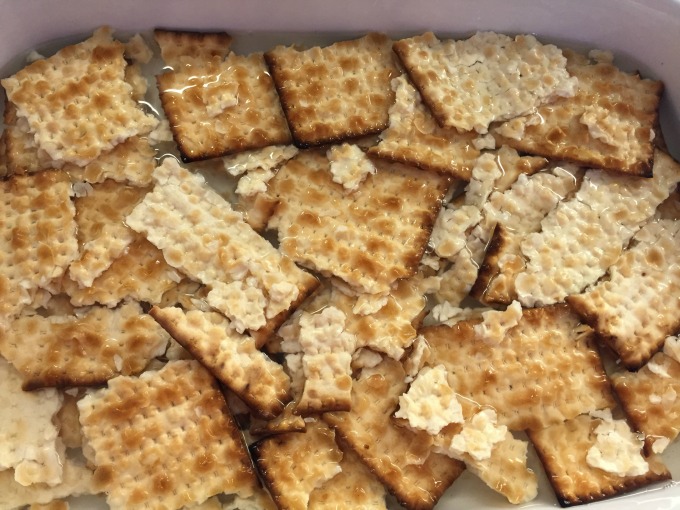 In a large bowl whisk together eggs, coconut oil, applesauce, sugar, salt and cinnamon.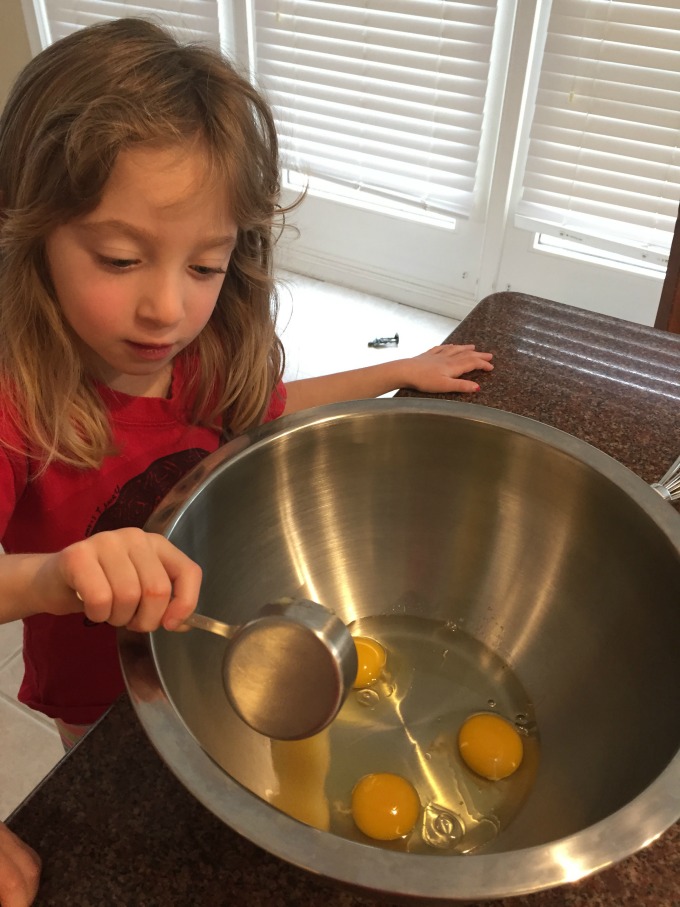 Then gently fold in the drained matzoh, apples and raisins.  Pour that into an 8 inch baking dish and cook for about 30 minutes, until the top is golden.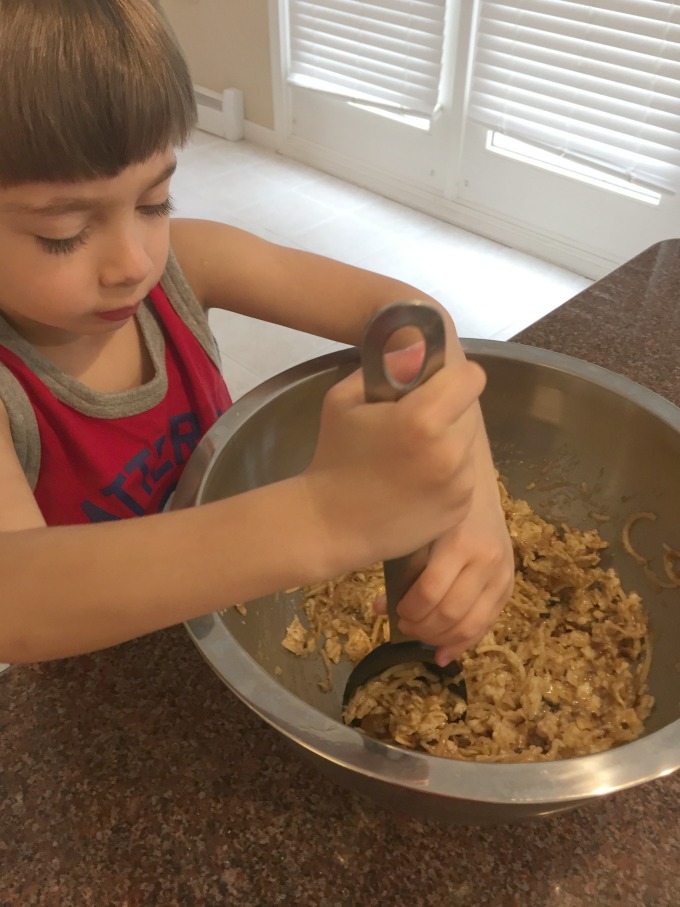 So what sets this recipe apart from other kugel recipes?  It's super moist from the coconut oil and applesauce.  Since the apples are so thin, it cuts down on cooking time and doesn't make the kugel get dried out.  It's not overly sweet and the coconut oil gives it a subtle, unique coconut taste.  This recipe needs to be on your Passover menu or would be good just anytime.  We made it early Sunday morning and it was all gone by the end of the day.  So delicious!
Ingredients
6 apples, ends cut off and peeled
4 sheets of matzoh
3 eggs
1/4 cup coconut oil
1/4 cup applesauce
1/3 cup sugar
1 teaspoon cinnamon
1/4 teaspoon salt
optional: 1/4 cup golden raisins
Instructions
Preheat oven to 350. If you have a spiralizer, put the apples through it to make noodles. If you don't have a spiralizer, your can shred them in a food processor or cut them into small pieces.
Break matzoh into pieces and soak in water for a few minutes. Drain in a colander and gently press to remove excess moisture.
In a large bowl whisk together eggs, oil, applesauce, sugar, cinnamon and salt. Fold in apples, matzoh and raisins. Stir until combined. Pour into a greased 8 inch baking dish and cook for 30 minutes until top is browned and bottom is bubbling. Let cool, cut into squares and serve warm or at room temperature.
7.8.1.2
5
https://veggingonthemountain.com/2016/03/apple-noodle-kugel/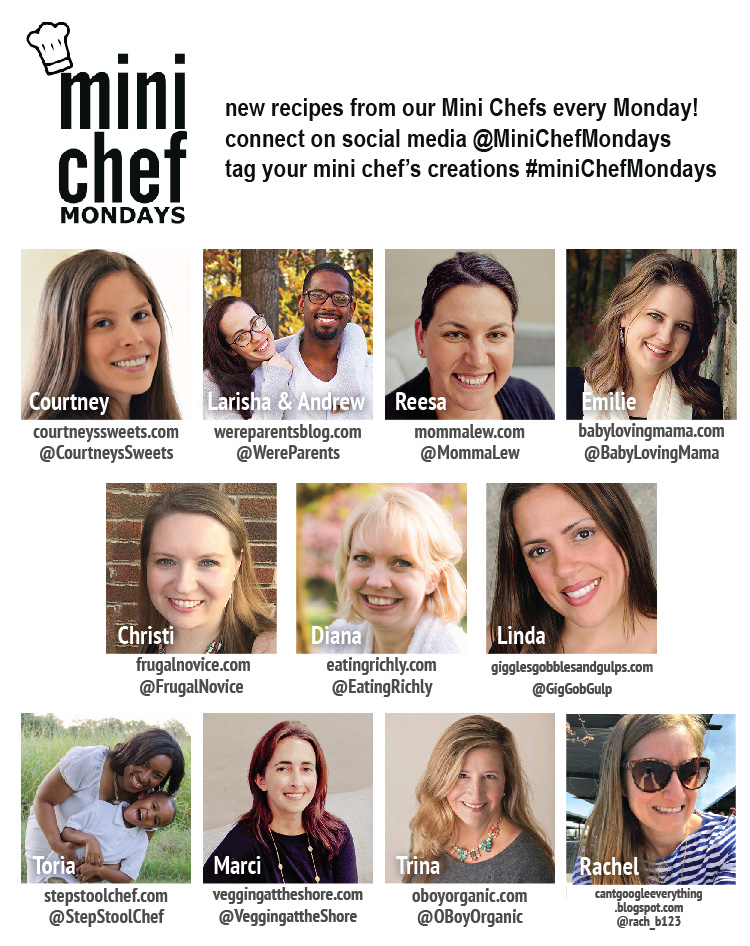 I am hosting Mini Chef Mondays along with 10 fabulous bloggers! Read how Mini Chef Mondays started, plus how to link up!
Join our facebook group to find even more recipes and share recipes too!
Get featured and follow us too!
Be sure to check out each of their Mini Chef posts as well!