Do your kids (and you) need a sugar detox after Halloween? Then this salad is perfect. People ask me all the time how I get my kids to eat vegetables. The real answer is that they just like vegetables. I do not believe in hiding vegetables in food. No need to be sneaky. I believe that kids should have a healthy relationship with food and know what they are eating. I like taking my kids to the farmers market to pick out what appeals to them. I also love using the spiralizer to make vegetable noodles. Only about half of the vegetable noodles make it to the salad bowl because they get gobbled up as soon as they come out of the spiralizer. This salad is so delicious and fun to make with kids.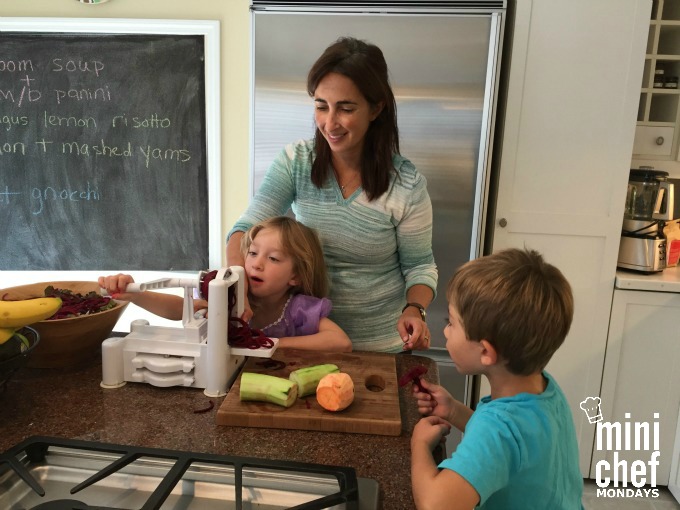 You start with a big salad bowl full of spinach. One of my son's favorite kitchen gadgets is the salad spinner. He loves using it and then checking to see how much water accumulates on the bottom.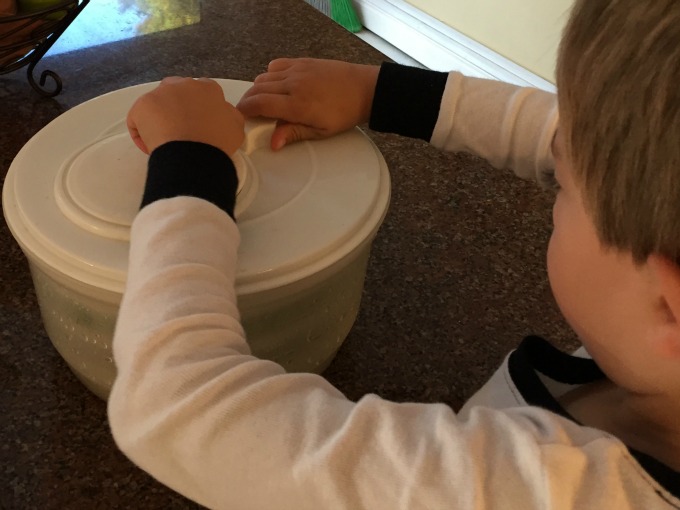 Next you choose the vegetables to spiralize. I like to choose ones that are firm. My favorites for this salad are beets, cucumbers and sweet potatoes. I love the concept of eating the rainbow by varying up the colors on your plate. This salad couldn't be more colorful!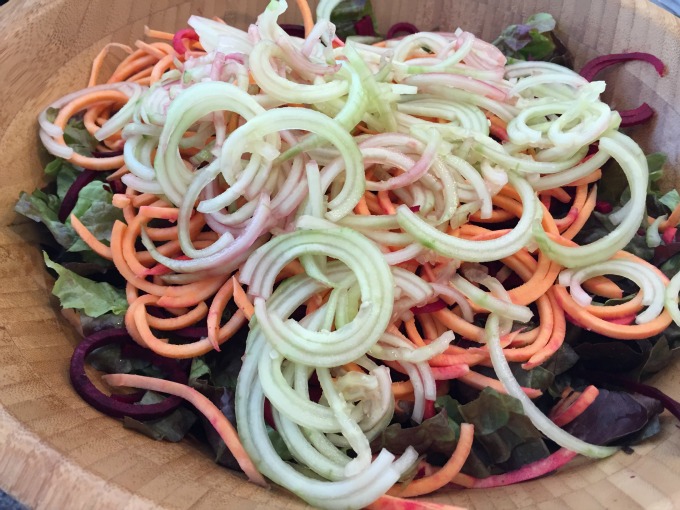 Ginger dressing may seem like such a treat in Japanese restaurants, but it is so easy to make at home. You add all of the ingredients to a blender or immersion blender. My daughter loves to press the button on the smart stick and watch all of the ingredients come together. Our blender isn't the best so I've been looking at other options. I actually use the blender all the time so I really need one that's going to blend properly whenever I need it. Our current blender just seems to burn out all the time! I've seen a few Ninja blenders at Kitchen Habit (and other similar websites) and it looks like Ninja might be the best brand. Now I just have to buy one!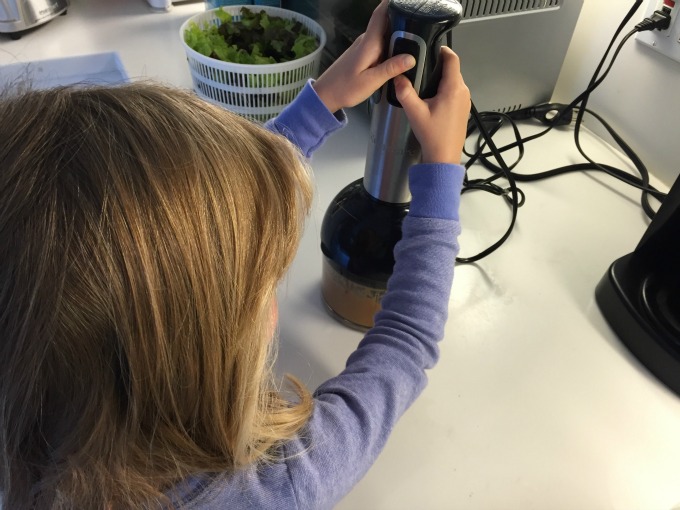 Add the ginger dressing to the salad and you have a colorful, fun and delicious salad that even picky eaters will gobble up!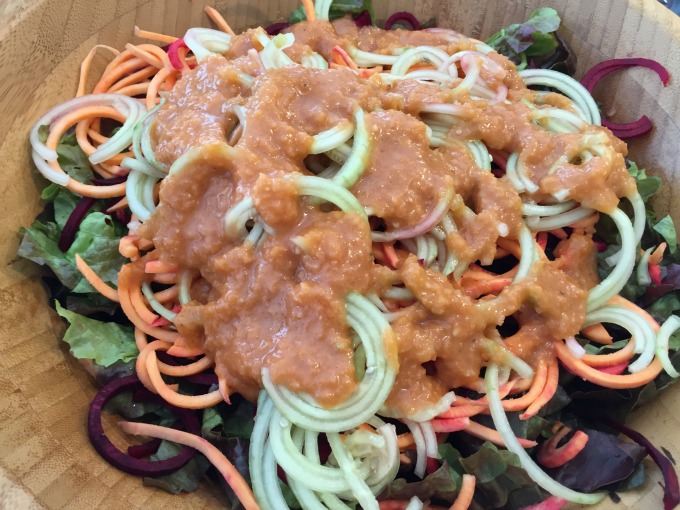 Spiralized Vegetable Noodle Salad with Ginger Dressing
Ingredients
4 cups of spinach
1 cucumber, peeled
2 small beets, peeled
1 medium yam, peeled
3 tablespoons chopped onion
3 tablespoons canola oil
2 tablespoons distilled white vinegar
1 tablespoon grated fresh ginger
1 tablespoon ketchup
1 tablespoon reduced-sodium soy sauce
1 garlic clove, minced
¼ teaspoon salt
fresh ground pepper to taste
Instructions
Place spinach in a large bowl. Cut ends off of beets, cucumber and yam. Starting at top of each vegetable, cut halfway through from top to bottom. This will prevent you from getting one long vegetable noodle. Put the vegetables through the spiralizer and add the vegetable noodles to the spinach. If you don't have a spiralizer you can cut the vegetables into long, thin strips. To make the dressing, combine onion through pepper in an immersion blender or regular blender. Pour over salad and toss.
Notes
Dressing recipe adapted from Eating Well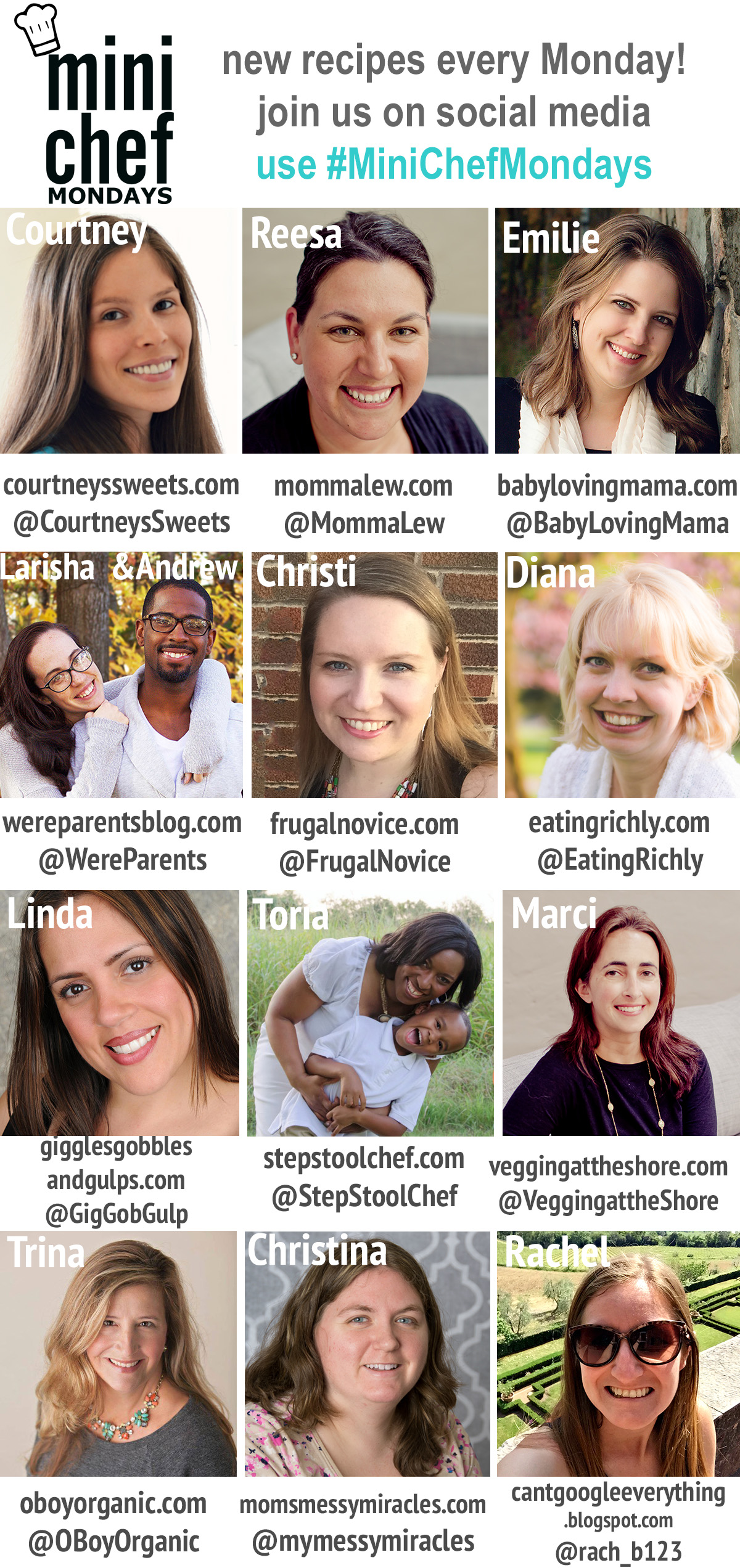 I am hosting Mini Chef Mondays along with 10 fabulous bloggers!
Be sure to check out each of their Mini Chef posts as well. We would love it if you would share your Mini Chef posts with us each week, too! Follow along socially and join in on the fun by using our hashtag #MiniChefMondays to share creations your mini chef created in the kitchen. Don't have a blog? Share the URL of your instagram photo in our linky below. 🙂