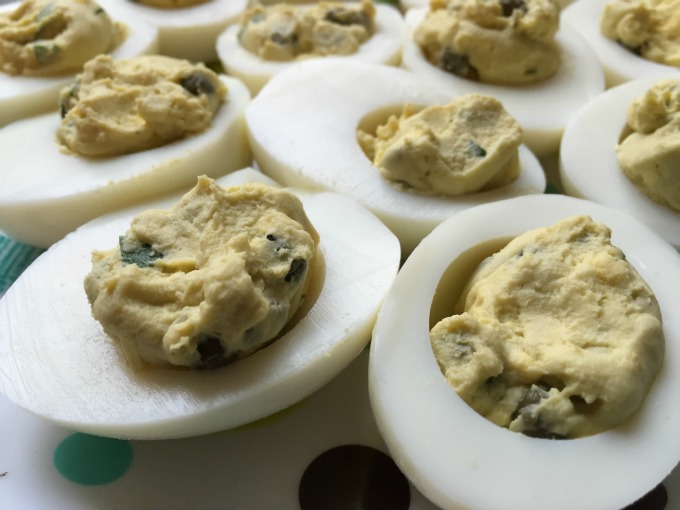 I hope you all had a good Thanksgiving.  I was fortunate to be surrounded by family and good food, what more could you ask for! With Thanksgiving behind us, it's time to focus on the holiday season which means parties and entertaining.  I like to have easy and delicious recipes at my fingertips because I always feel short on time at this time of year.  Deviled eggs are perfect as an appetizer or side dish and always a crowd pleaser.  These deviled eggs are special in that they have some unique ingredients, including capers (one of my favorites).  The kids had a lot of fun helping me prepare this recipe and everyone gave it a thumbs up.
You start with hard boiled eggs.  I typically simmer my eggs for about 20 minutes and then let them sit for an additional 20 minutes with the heat turned off.  Once they are cooled down, you want to carefully peel them which my son helped me with.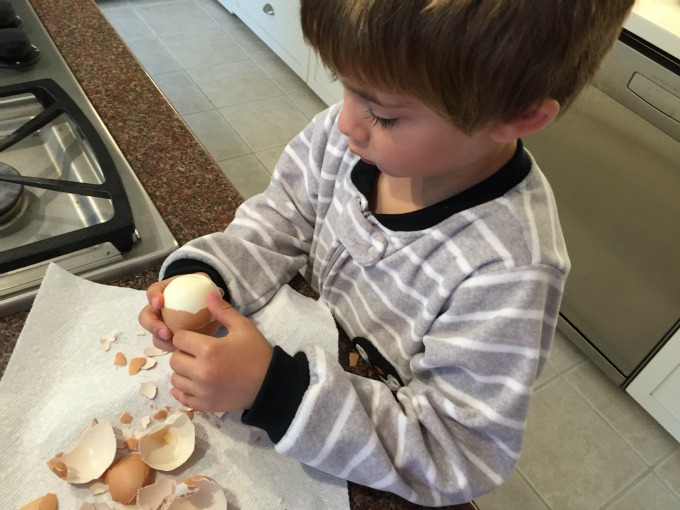 You carefully cut the eggs in half and pop the yolks into a bowl with mayonnaise.  Then using a fork or masher, you mash up the mixture.  My son loves using the masher so this was his job.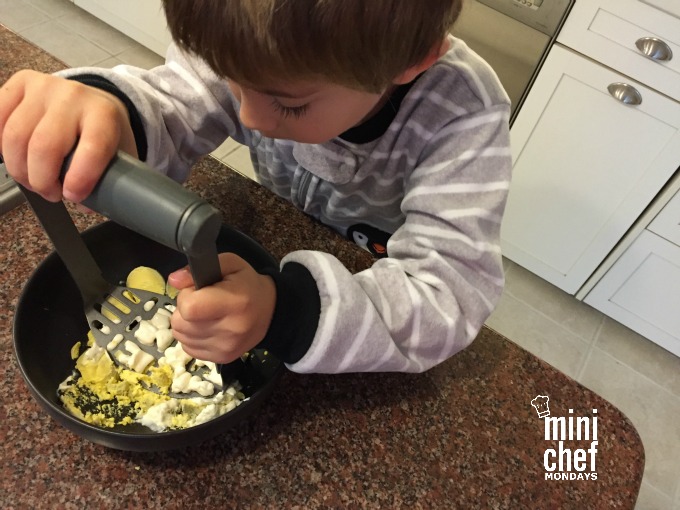 Next you add the rest of the ingredients to the bowl (chopped capers, parsley, salt and olive oil).  To fill the egg yolk shells you can simply scoop the mixture in using a spoon.  If you have a pastry bag you can use that and if not, you can squeeze the mixture through a small plastic bag with an end cut off.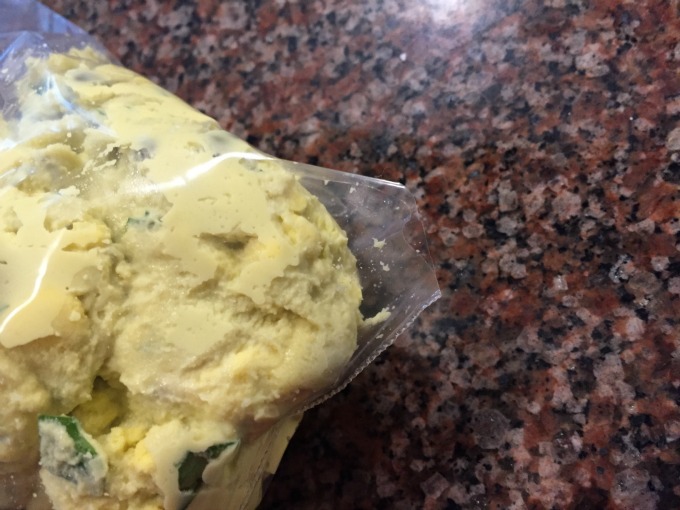 My daughter is very meticulous so she loved squeezing the mixture into the shells.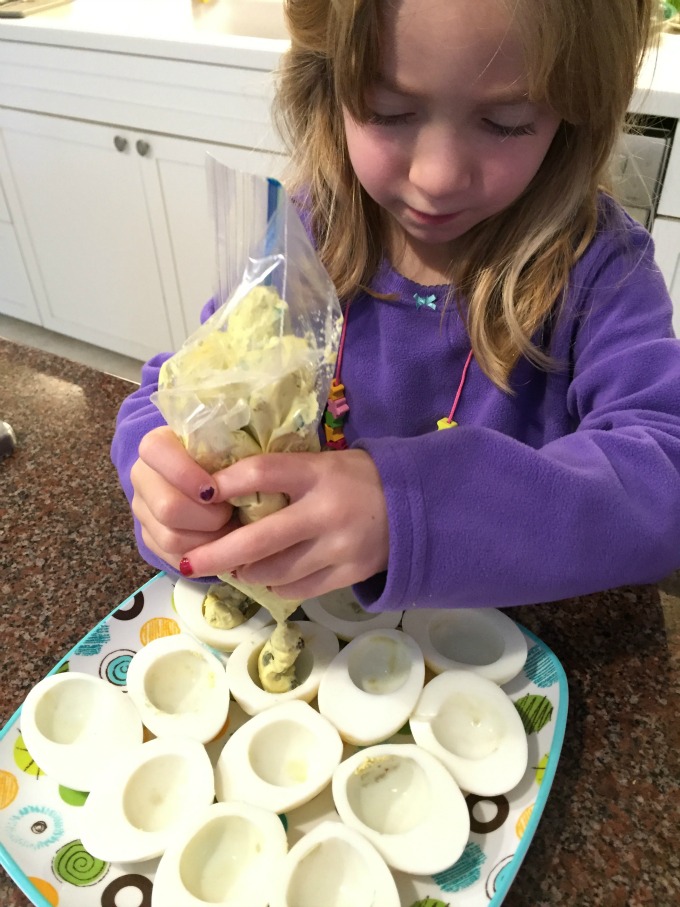 After boiling the eggs this recipe was ready in less than 20 minutes.  The capers have a strong, salty flavor which is a perfect addition to eggs.  I'm definitely going to be making these for holiday gatherings this season.

Deviled Eggs with Capers
Ingredients
8 hard boiled eggs
3 tablespoons mayonnaise
1 tablespoon drained, chopped capers
½ tablespoon extra virgin olive oil
¼ teaspoon salt
1 tablespoon chopped parsley
Instructions
Cut eggs in half. Scoop yolks into a bowl. Arrange egg white shells on a plate. Add mayonnaise to yolks and mash with a fork or a masher. Using a spoon add capers, oil, salt and parsley. Combine until smooth. Fill egg yolk shells with filling. You can either do this by using a spoon or filling a pastry bag or small plastic bag with filling. If using a small plastic bag, cut end off and squeeze into shells.
This post was inspired by the adorable children's book called
Mother Bruce
 by Ryan T. Higgins.  It's about a grumpy bear named Bruce who loves to cook eggs and suddenly finds himself as the caretaker for a bunch of goslings.  My kids and I so enjoyed reading this book, especially given our love of cooking.  To learn more about the book, click
here
.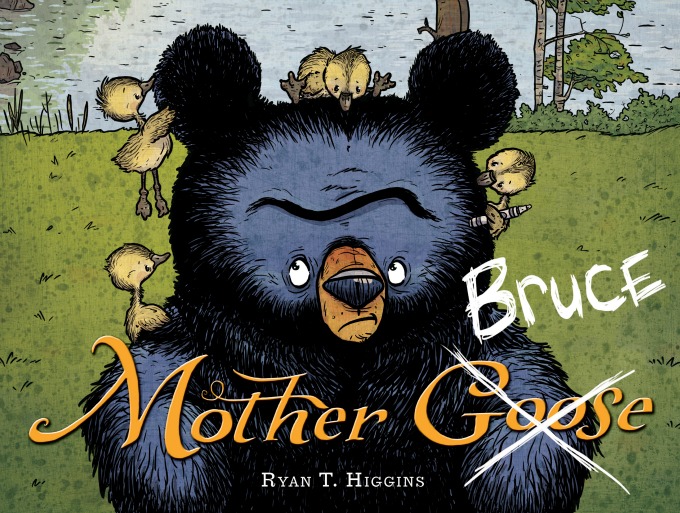 We are giving away a copy of this book and an adorable pair of bear oven mitts to a Vegging at the Shore reader.  You can enter below.  This book would be a great gift for the upcoming holidays!
I am hosting Mini Chef Mondays along with 11 fabulous bloggers!
Be sure to check out each of their Mini Chef posts as well. We would love it if you would share your Mini Chef posts with us each week, too! Follow along socially and join in on the fun by using our hashtag #MiniChefMondays to share creations your mini chef created in the kitchen. Additionally, if you have a kid-friendly recipe that kids can easily recreate link up! Don't have a blog? Share the URL of your instagram photo in our linky below.


This is a sponsored post.  All thoughts and opinions are my own.