A few weeks ago I posted a recipe for tortellini with kale pesto.  I keep hearing from people near and far telling me how much they have enjoyed this recipe.  I agree, it's a keeper!  While the kale pesto is delicious on tortellini, I decided to make a panini sandwich out of it and the result was amazing.
My panini maker gets a lot of use.  It takes ordinary sandwiches to the next level.  For this recipe you start with a batch of kale pesto.  One of the best things about this pesto is that you don't cook the kale first, you just combine everything in the food processor.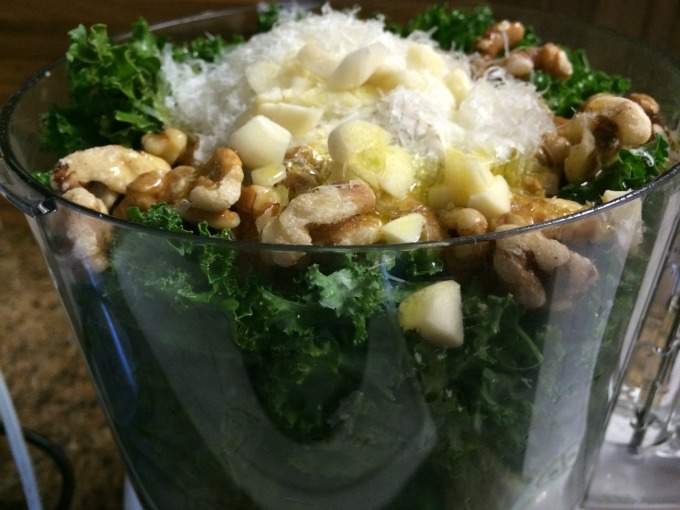 Next you build your sandwich with sliced tomato, fresh mozzarella and kale pesto.
Put that in the panini maker for about four minutes and it will be perfect.  This is such a delicious sandwich to make that looks complex but is really quite easy.  Enjoy!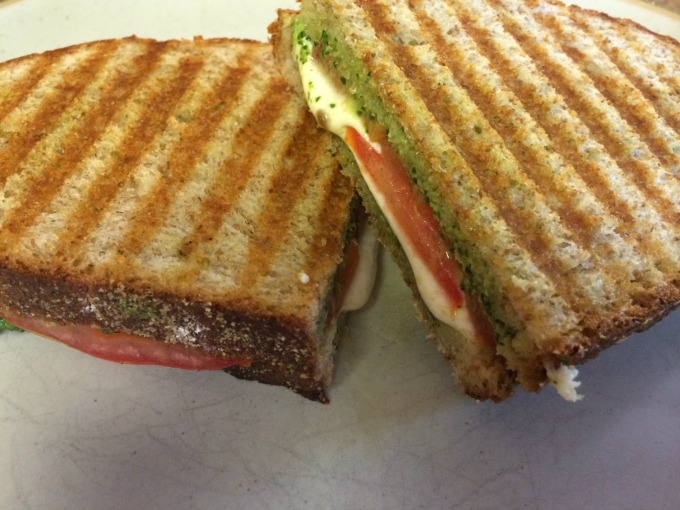 If you like this recipe you may also like the recipe for brussels sprouts & gouda panini.

Kale Pesto Caprese Panini
Ingredients
8 slices of bread
1 batch of kale pesto (see link above)
sliced tomato (I used 2 large tomatoes)
sliced mozzarella (I used 8 slices of cheese)
grape seed oil
Instructions
Heat panini maker on medium.
Brush 2 slices of bread with grape seed oil. Turn bread over and then spoon kale pesto on each slice and add tomato and then mozzarella. Close sandwich and put in panini maker for 4 minutes or until cheese melted. Remove from panini maker and repeat to make a total of 4 sandwiches.