I grew up in Bala Cynwyd, about a mile from Main Street in Manayunk.  Growing up, Manayunk did not have much to offer.  Nowadays it is a popular destination for shopping and dining.  Over the years it has grown.  While many stores and restaurants have come and gone, new ones have taken their place and it remains a wonderful place to visit.  I was recently invited to partake in a Chew Philly Food Tour through Manayunk and brought along my best friend from childhood.  We both have small children and it was such a treat to spend a day away from our normal routine walking, chatting and eating.
The tour started at Marchiano's Bakery.  What I found most astonishing about this bakery is that it's been around since 1984 and I have never been there.  Their specialty is tomato pie and words can not describe how delicious it was.  My husband is a huge fan of tomato pie so I've tasted a lot of tomato pie over the years and this was by far the best.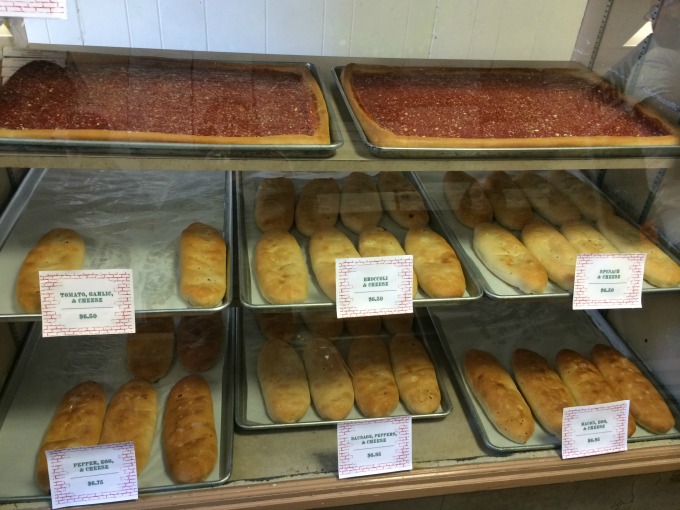 We were lucky to have beautiful weather that day so we strolled along the canal listening to our very informative tour guide.  Our next stop was Lucky's Last Chance that specializes in comfort foods and craft beers followed by a stop at Sorrentino's Deli.  No food tour in Philadelphia would be complete without a cheesesteak which my friend Tracy reported as being delicious!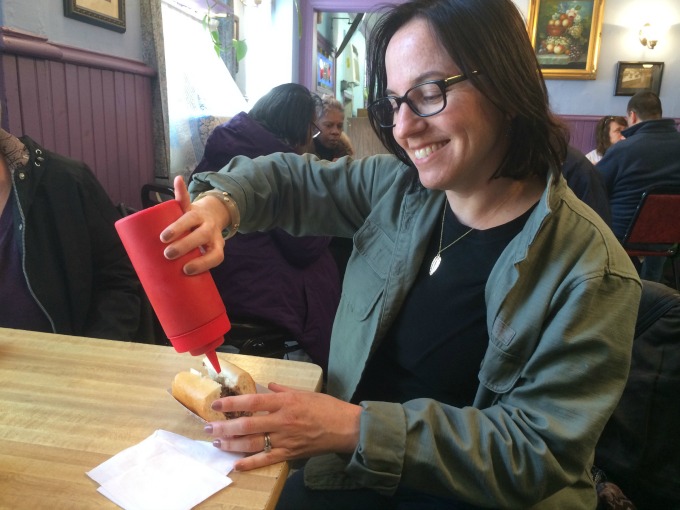 We followed that with a visit to Breakin Bread Bakery.  If you are walking along Main Street you could so easily miss this place which would be a tragedy!  It's a narrow bakery with a take-out window.  We were treated to sticky buns with rum-soaked raisins that were out of this world good.  This place sells out of their baked goods quickly.  It is such a gem.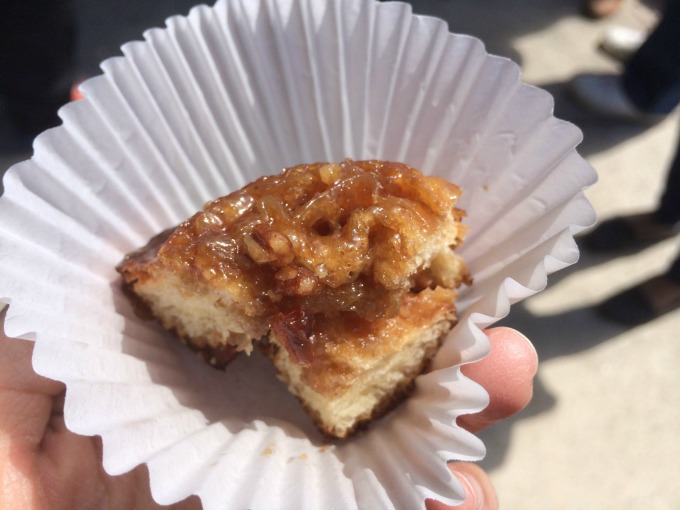 When you eat something that good it needs to be followed up with coffee.  If you follow me on social media you know that my favorite coffee is La Colombe.  Volo Coffeehouse brews La Colombe coffee, complete with perfect designs in the steamed milk.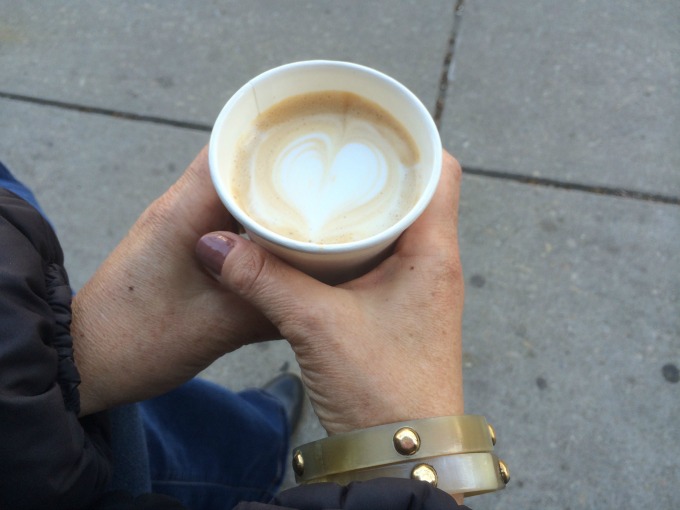 We finished the tour at Sweet Elizabeth's Cakes.  If I ever dreamed of opening a bakery, this would be it.  Everything is gorgeous and delectable-looking.  We sampled red velvet cupcakes with candied beets on top.  I've never had candied beets before and I now want to eat them everyday.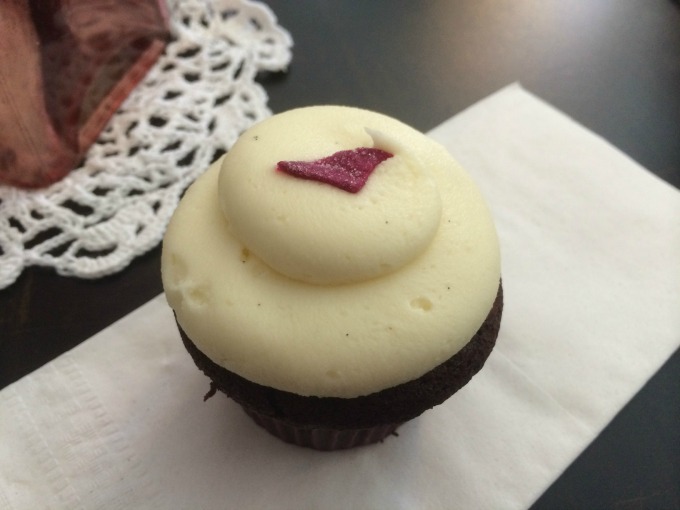 In addition to visiting six authentic eateries we learned so much about Manayunk history and architecture.  Who knew there was a Pretzel Park in Manayunk?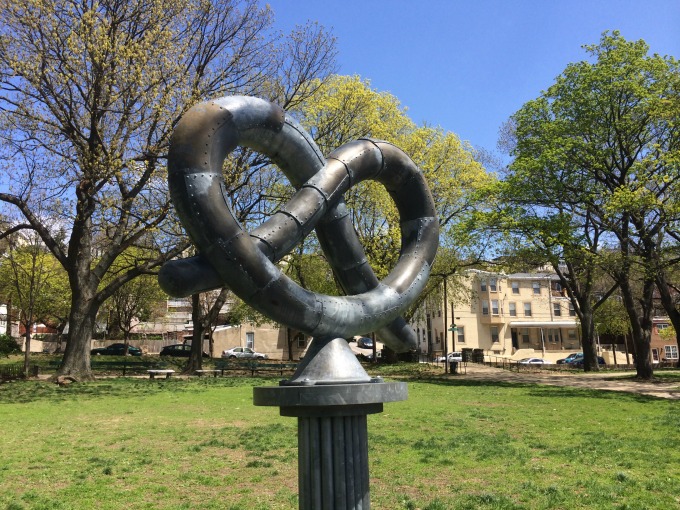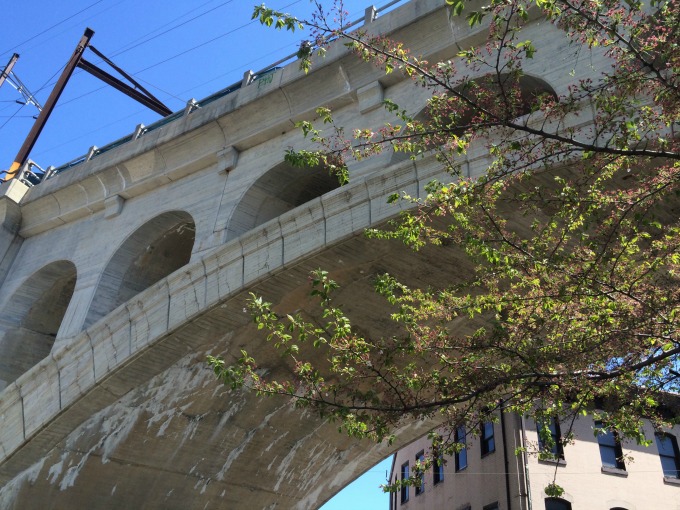 My friend and I had so much fun on the food tour.  The food was fabulous at each stop and was very nicely balanced.  We were full at the end but not feeling too full because of all the walking. The group was a nice size, around fifteen so we could interact with our tour guide and fellow tour participants while at the same time enjoy the company of our companions.  Even though this is familiar territory to me, I was thrilled to learn about new culinary spots.
Tours run Thursday through Sunday and last 2.5 hours.  Ticket prices are usually $74 but are currently on sale for $39 through Mother's Day.  This would make a fabulous present to give a mom for mother's day.  Spending a day eating, walking, and chatting is something I know most moms would love!  For more information about Chew Philly Food Tours, visit their website.
Disclosure: I received 2 complimentary tickets to Chew Philly Food Tours.  All thoughts and opinions are my own.