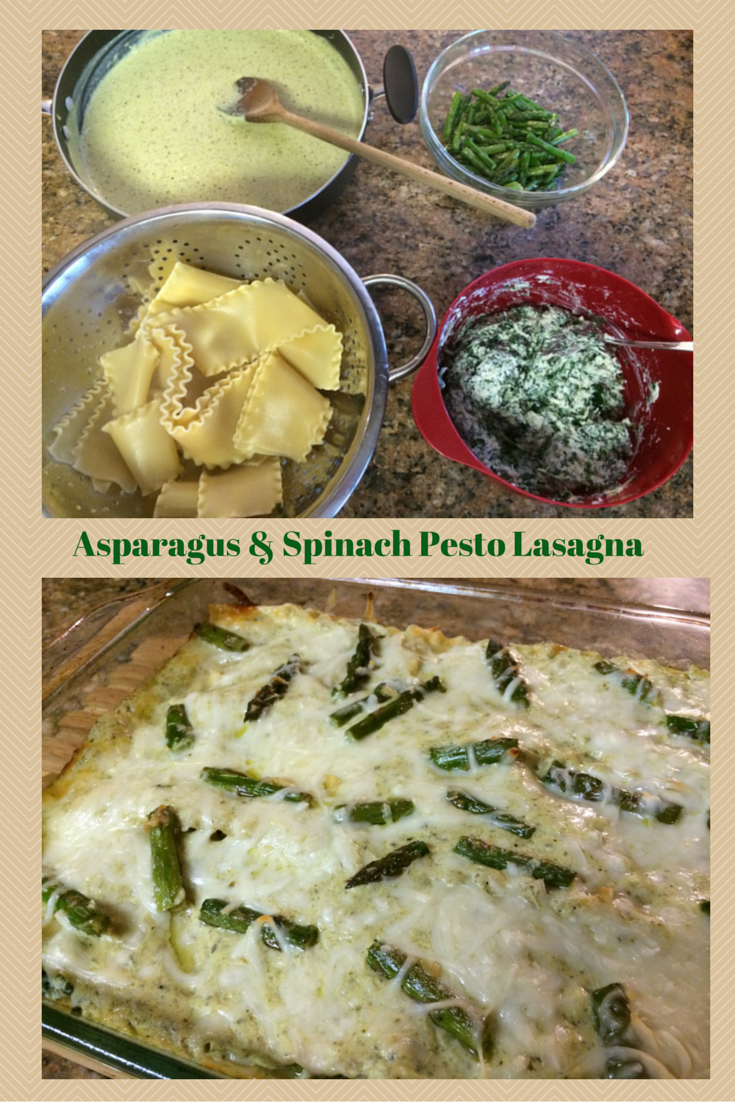 When I gave birth to my twins, I was living in a townhouse community in Pennsylvania.  My twins were born prematurely and spent six weeks in the NICU.  When they came home, my husband and I were completely overwhelmed with two fragile newborns.  The last thing on our minds was cooking.  We were fortunate to have the kindest, most thoughtful neighbors who set up a meal train so that a meal was delivered to us once a week for two months.  I can not begin to tell you how much this meant to us.  Besides the fact that it meant we would eat a good meal once a week, I welcomed the company each time a meal was delivered because it was January and getting out of the house was a rare occurrence.  I was so touched by their kindness that I vowed to pay it forward.  Whenever a friend has a baby or is in need, I take them a meal.  Lasagna is often the go-to meal to bring someone so I like bringing a different version than the standard one and this is one of my favorites.
You start by sautéing asparagus and garlic.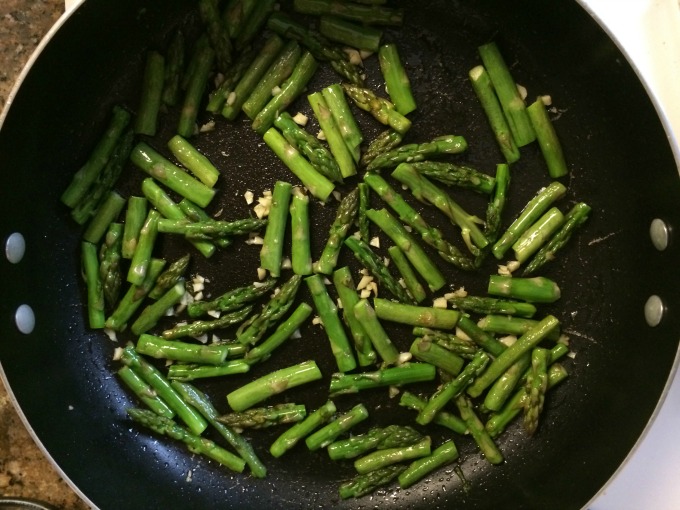 You then combine ricotta, mozzarella, spinach and salt.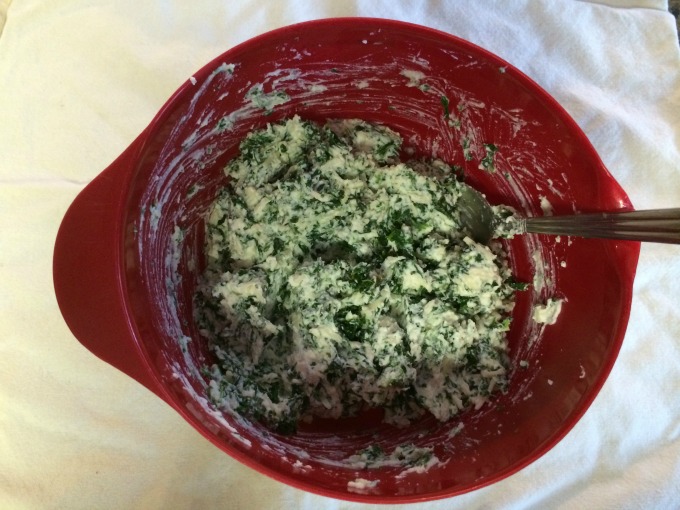 To make a béchamel sauce, you combine flour and milk, then add pesto.  It will be creamy and delicious.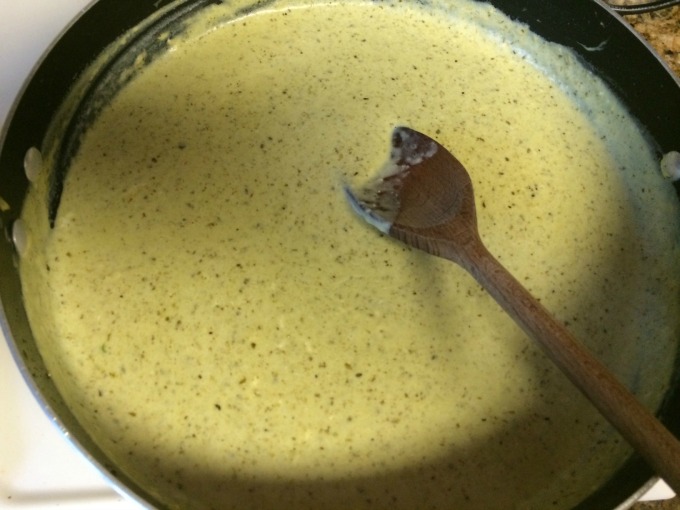 Now you are ready to assemble your lasagna.  You start with noodles, add some of the spinach mixture, some of the asparagus, some of the cream sauce and repeat.  When all layered, it will look like this.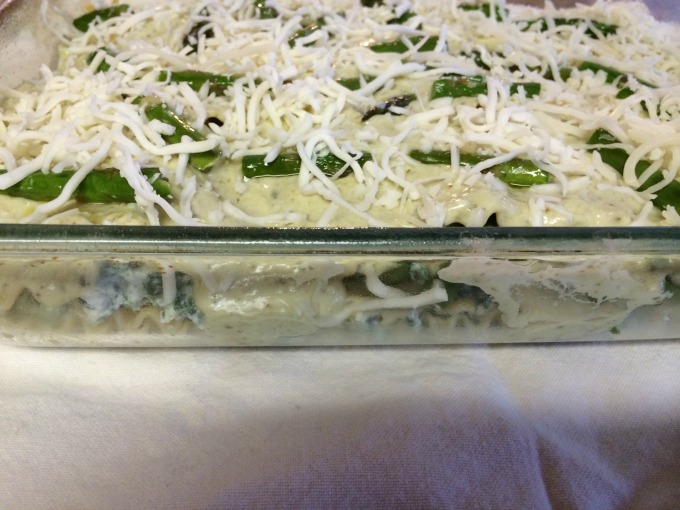 After about 40 minutes in the oven uncovered you will get this.
Besides being packed with green vegetables, this lasagna is loaded with flavor from the pesto cream sauce.  This dish is so satisfying and filling, perfect alongside a green salad.  Next time you plan to take a meal to someone who is sick or just had a baby, try this.  It is sure to bring a smile to their face.

Asparagus & Spinach Pesto Lasagna
Ingredients
1 bunch of asparagus, tough ends removed and cut into pieces about 1½ inch long
1 large garlic clove, minced
1 teaspoon olive oil
2 cups ricotta cheese (I used low-fat)
2 cups shredded mozzarella, divided
10 oz container frozen spinach, thawed and moisture squeezed out
2 tablespoons grated parmesan cheese
2 teaspoons salt, divided
⅓ cup all purpose flour
3½ cups milk (I used low-fat, do not use fat-free)
6 tablespoons pesto (store bought or homemade)
9 lasagna noodles, cooked according to package directions
Instructions
Preheat oven to 400. Heat oil over medium heat. Add asparagus and cook about 5 minutes until softened. Add garlic, cook 1 more minute. Remove from heat and set aside.
Combine ricotta, 1 cup mozzarella, spinach, parmesan cheese and 1 teaspoon salt in a bowl. Set aside.
In a saucepan combine flour with ½ cup milk. Stir with a whisk until smooth. Gradually add rest of milk and bring to a boil, stirring constantly. Continue stirring until it thickens. Remove from heat. Stir in pesto and 1 teaspoon salt.
Spray a 9x13 inch baking dish with cooking spray. Lay three noodles on bottom. Spread half of spinach ricotta mixture on top of noodles, using hands or back of spoon to spread out. Top with ⅓ of asparagus and then ⅓ of pesto sauce. Repeat with another layer of noodles, rest of spinach mixture, ⅓ of asparagus and ⅓ of pesto mixture. For final layer add remaining 3 noodles, remaining sauce and asparagus. Top with 1 cup of mozzarella. Cook uncovered for 35-40 minutes, until cheese bubbly and starting to brown around edges. Let cool for five minutes before serving.
Notes
Adapted from Vegetarian Times