You know when dessert time rolls around at Thanksgiving dinner and you think that you couldn't possibly eat another bite, but then you look at the delicious spread of pies and you end up really stuffing yourself?  Yup, we've all been there.  That feeling was the inspiration behind these two bite pumpkin pies.  Instead of asking for "just  a small piece of pie" (does that ever really work?) you can instead take one of these and satisfy your pumpkin pie craving without going overboard.  These are perfect, adorable and just what your holiday table needs.
Many traditional pumpkin pies use a graham cracker crust but I like to use a ginger snap crust instead.  You first crush up the ginger snaps in a food processor, which one of my assistants helped me with.  She helped me count the cookies and then press the buttons on the food processor.  I try to always find jobs for my kids in the kitchen to engage them in the cooking process.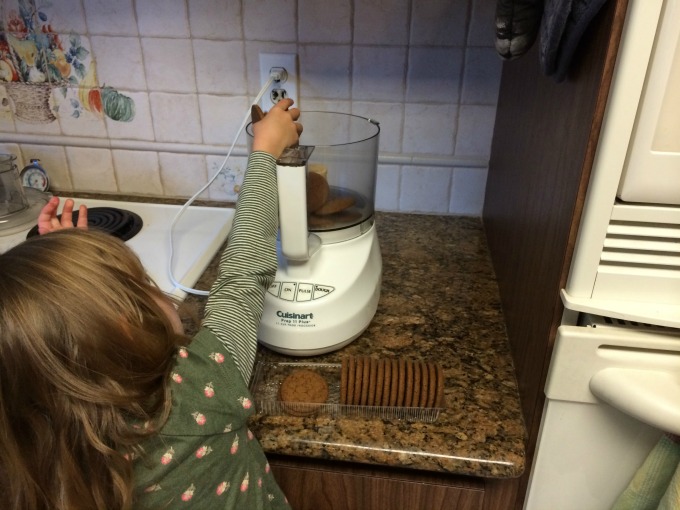 Next you add a binder.  Typically this is done with butter, but I used coconut oil instead.  Have you cooked with coconut oil?  If not, what are you waiting for?  It's fantastic.  I enjoyed hearing about the health benefits while listening to The Splendid Table recently.  When the ginger snap crumbs and coconut oil come together, it will look like coarse meal.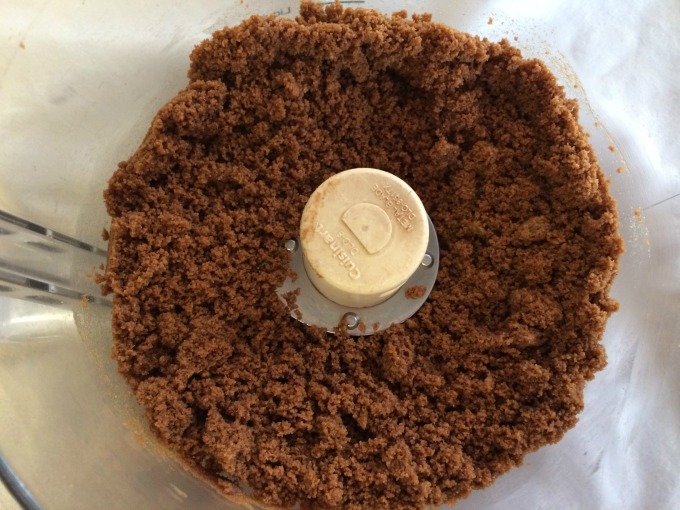 Next you want to take a greased mini muffin pan and fill each one with the crumb mixture, pressing down with your fingers or a spoon.  You cook that in the oven for five minutes.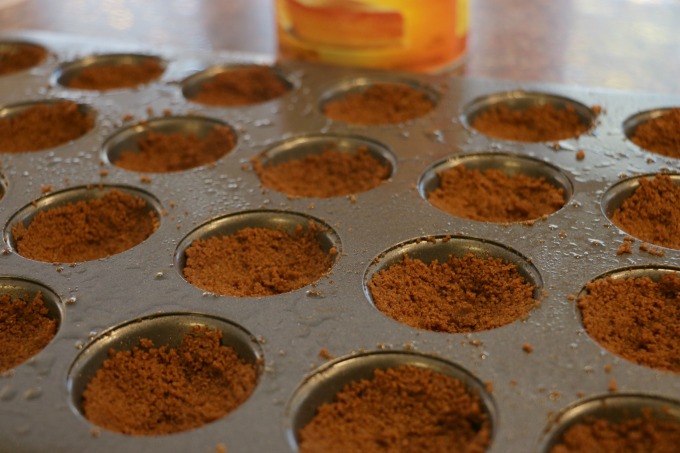 While those are cooking you can quickly make the filling.  I experimented with some different fillings, but eventually settled on a traditional recipe.  Once you whisk that up, the easiest way to get it in the muffin pan is by using a liquid measuring cup.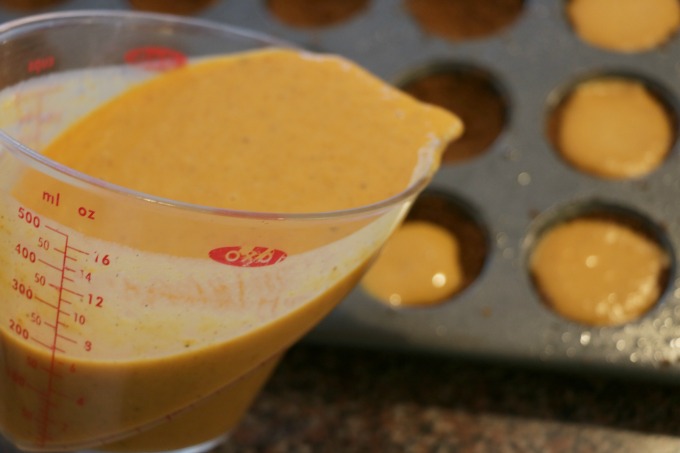 Once your mini muffin pan is filled it will look like this before going into the oven.
Most pumpkin pie recipes need to cook for forty-five minutes to an hour.  Since these are much smaller, your cook time is cut down to twenty-five minutes.  Top them with whipped cream to elicit some extra oohs and aahs.  These are the perfect size and will completely satisfy your sweet tooth.  If you are hosting Thanksgiving this year or will be a guest at someone else's home, two bite pumpkin pies must be on your table for dessert.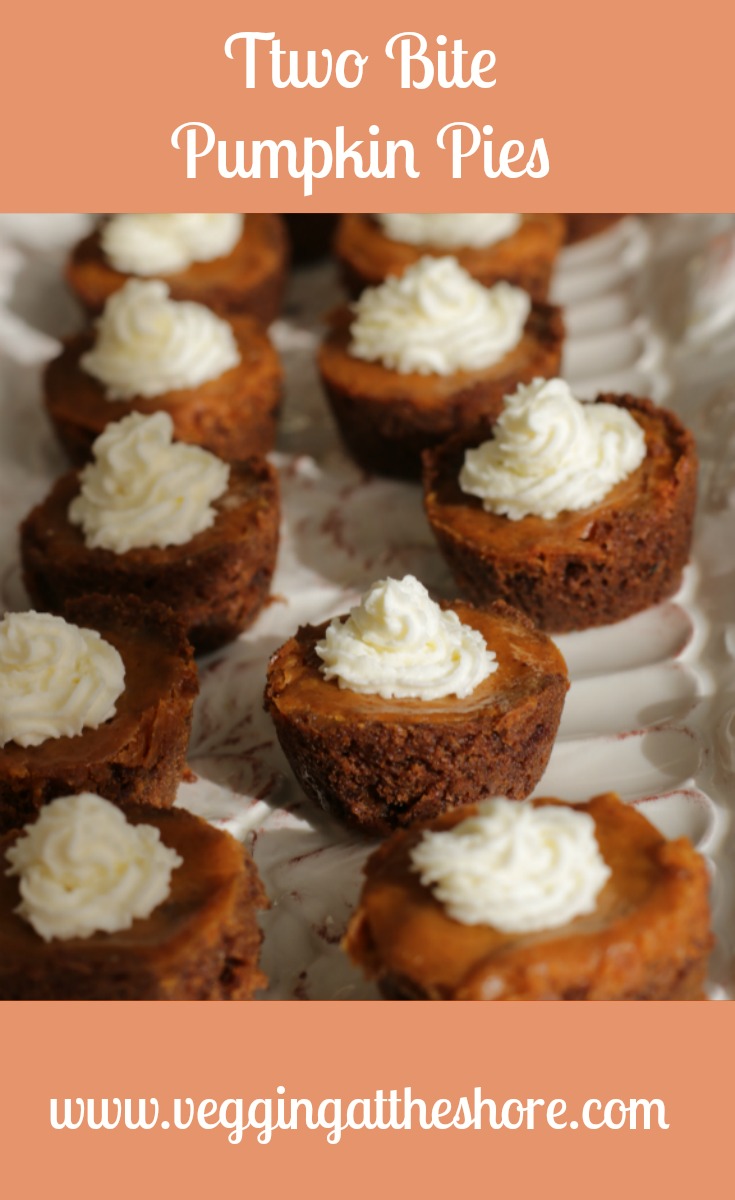 Two Bite Pumpkin Pies
Ingredients
2 cups crushed ginger snaps (about 35 cookies)
2.5 tablespoons of coconut oil
¾ cup granulated sugar
1 teaspoon ground cinnamon
½ teaspoon salt
¼ teaspoon ground cloves
2 eggs
1 15 oz can pumpkin
1 12 oz can evaporated milk
optional-whipped cream for topping
Instructions
Preheat oven to 325.
In a food processor combine ginger snap crumbs and coconut oil until mixture resembles coarse meal. Spray a mini muffin pan with cooking spray and scoop about 2 teaspoons of mixture into each cup, pressing down with your fingers or the back of a spoon. Press along the sides of each muffin cup. You don't want to put too much in each, just a thin coating. Bake for 5 minutes.
While those are baking combine sugar, cinnamon, salt, cloves, eggs, pumpkin and evaporated milk with a whisk until smooth. Pour into a liquid measuring cup. Fill each muffin cup with the pumpkin filling to almost the top. Carefully put in oven for 25 minutes.
Let cool in pan and then using a knife, carefully scoop each one out. Top with a little whipped cream right before serving.
Notes
This recipe will make about 36-48, depending on how much of the ginger snap mixture you put in each muffin hole.

These will keep in the refrigerator for up to 5 days.