I am the youngest of three girls.  I have learned many important lessons from my older sisters, but one of the most valuable has been from my oldest sister on how to make challah bread.  A few years ago I spent an afternoon with her taking copious notes on her recipe and though I think hers is still the best, I can replicate it pretty closely.  Challah is typically braided in a straight line but for Rosh Hashanah, the Jewish new year, it is made round to signify the circle of life and the cyclical nature of the passage of a new year.
The line-up of ingredients you will need includes all-purpose flour, rapid rise yeast, salt, sugar, canola oil and eggs.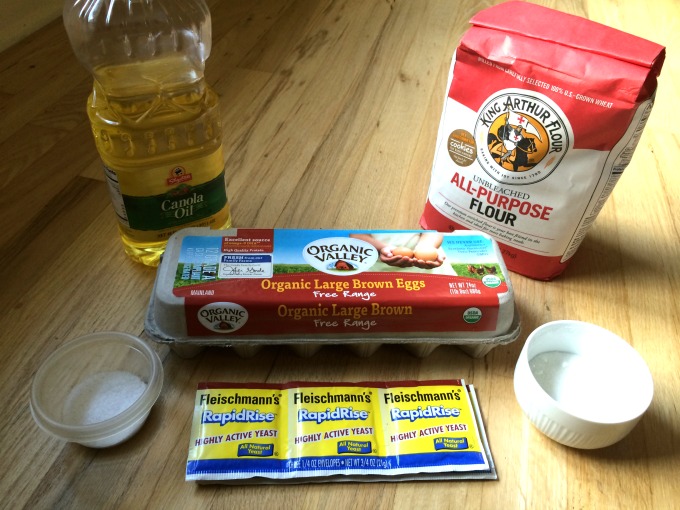 To make your dough you will first want to preheat your oven to 300.  In an oven-safe bowl combine three 1/4 ounce packets (one strip) of rapid-rise yeast, one tablespoon of sugar and two cups of warm, but not scalding hot water.  Open the door to the oven and place the bowl on the open door and leave it for ten minutes.  Yes, you are leaving the oven door open so you may want to do this when small children or animals are not around.  You may also want to clean your oven if you plan to take pictures for your blog.  The magic of yeast will take over and the mixture will rise and become frothy.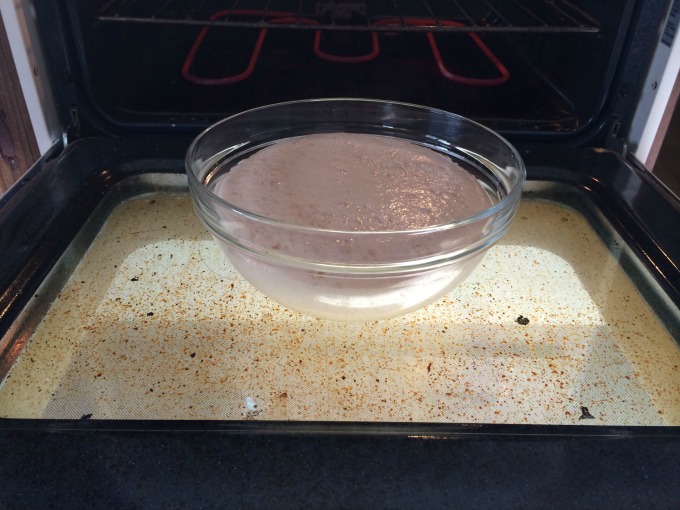 Crack two and a half eggs in a bowl but do not beat them.  Find the largest bowl you have.  I mean big, really big because your dough will rise.  To the huge bowl add half of a five pound bag of all-purpose flour (I eyeball it), one cup of sugar and 3/4 tablespoon of salt.  Mix this with a whisk and then make a well in the middle where you will add the eggs, 3/4 cup of canola oil and the yeast mixture.
Start mixing with a spoon until it becomes difficult.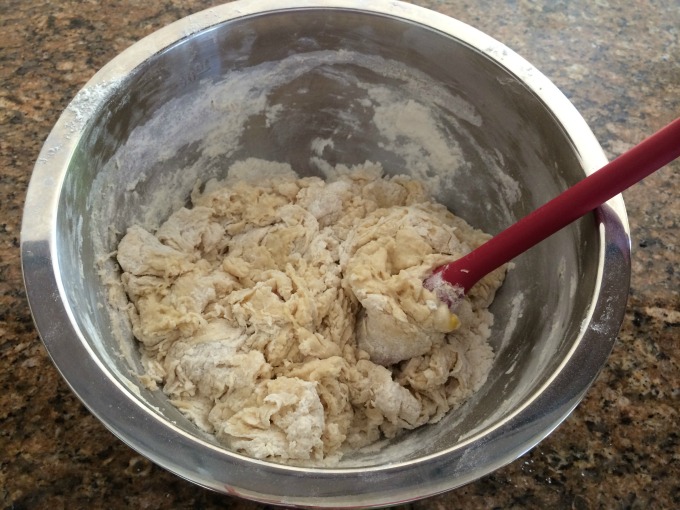 At this point you want to dump the dough onto a well-floured surface and knead for about ten minutes.  If the dough is too sticky, add more flour as needed.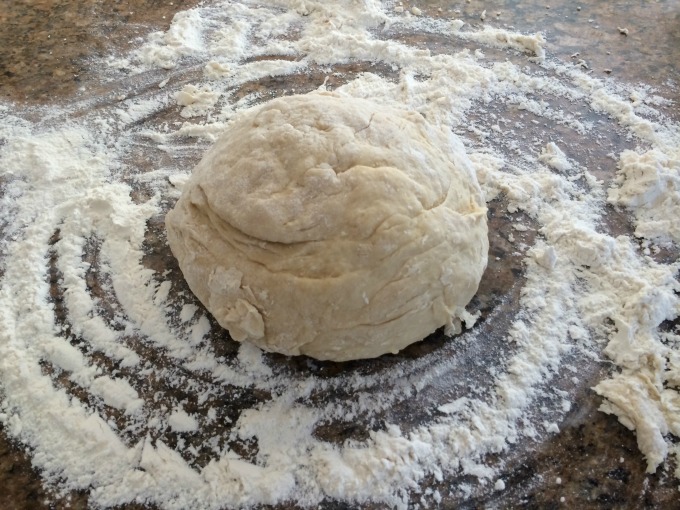 Wash the bowl out and using a paper towel coated in canola oil, brush the sides of the bowl with oil.  Place the dough in the bowl and blot the dough all around with canola oil.  Put a piece of plastic wrap loosely over the bowl and then cover it with a clean kitchen towel.  Leave the dough to rise in a warm place for four to eight hours and when it's done rising, it will look like this.
When the dough is done rising turn it onto a floured surface and pat it down.  Preheat your oven to 350.  Since this recipe makes three challahs you will want to divide your dough into three portions.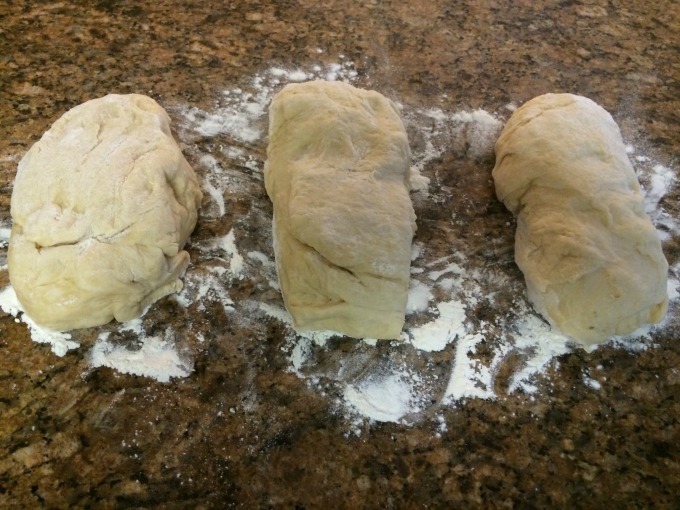 Leave one portion on the counter and put the remaining two pieces back in the bowl.  Working with the one piece you left out, cut it into four pieces.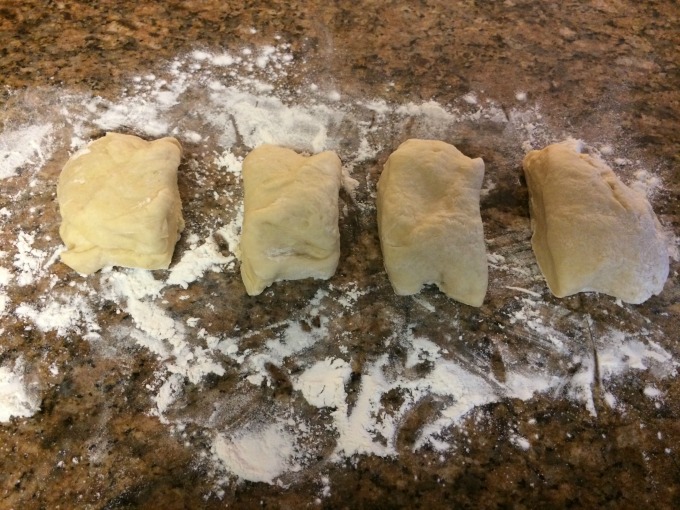 Roll each piece between your hands so you make it into a long rope.  Place each rope on the counter in a grid like the photo below.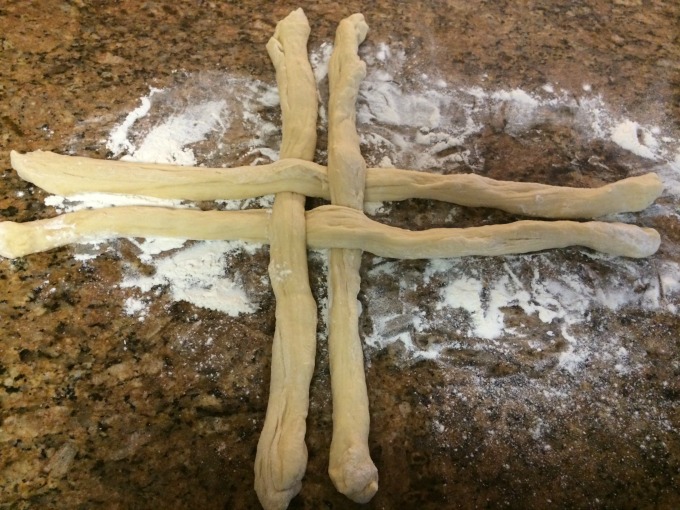 Then you want to do your braiding.  The first few times I did this, I looked on YouTube.  This video provides a very good explanation on how to braid round challah.
When you are done braiding you want to carefully transfer the dough to a greased baking sheet.  Beat two eggs in a bowl and brush the entire challah with the egg wash, making sure to get in all of the crevices.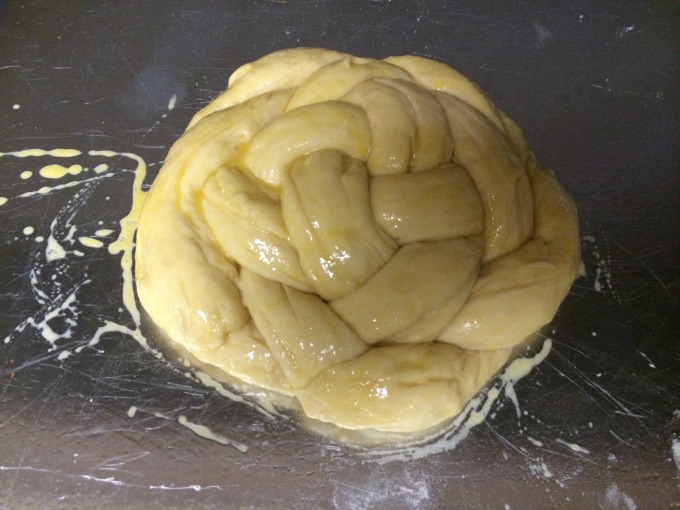 Place it in the preheated oven for twenty-five minutes.  Rotate the pan and let it cook for another ten minutes.  When it comes out, your house will be filled with the sweet smell of challah.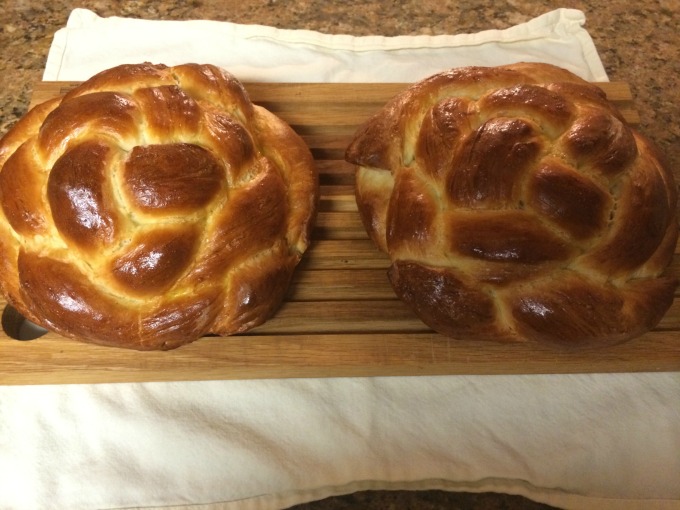 There are plenty of good options for store-bought challah but I assure you, this recipe is a gem.  Something magical will occur in your kitchen and once you make your own, you will not go back buying it.  If you like your challah sweet, add golden raisins to the dough or cinnamon sugar to the top before baking.
To those who celebrate Rosh Hashanah, I wish you and your family a sweet and happy new year!

My Sister's Challah
This recipe makes 3 challahs.
Ingredients
1 strip of rapid rise yeast (each strip has 3 packets with ¼ oz)
1 tablespoon + 1 cup sugar
2 cups warm water
4½ eggs
5 lb bag of all-purpose flour
¾ tablespoon salt
¾ cup canola oil plus more for oiling bowl
Instructions
Preheat oven to 300. Combine yeast, 1 tablespoon sugar and 2 cups warm water in an oven-safe bowl. Gently mix (it will be clumpy). Open oven door and place bowl on open door and leave for 10 minutes.
Crack 2½ eggs and put aside. Pour half of the 5 lb bag of flour into a large bowl and add 1 cup of sugar and salt. Mix and then make well in middle. Add eggs, canola oil and yeast mixture. Mix in the bowl with a spoon until it becomes difficult. Dump mixture on floured surface and knead by hand for 10 minutes, adding more flour if sticky. Wash bowl and using a paper towel, blot canola oil on dough and sides of bowl. Lay plastic wrap loosely over top and then lay clean kitchen towel on top. Let rise for 4-8 hours.
Preheat oven to 350. Divide dough into three sections. Working with one section at a time, divide each into four pieces. Roll the pieces between your hands to create long ropes. Lay four pieces on floured surface in a grid and begin braiding (refer to YouTube video in post). Carefully lay braided dough on greased baking sheet. Beat remaining 2 eggs in a bowl and brush dough with egg wash, making sure to get in all of the crevices. Bake for 25 minutes. Rotate pan and cook an additional 10 minutes. Repeat with remaining 2 pieces of dough.
Notes
Challah freezes beautifully. Wrap in foil and place in freezer.

If you like sweet challah, add golden raisins to the dough or cinnamon sugar to the top before baking.