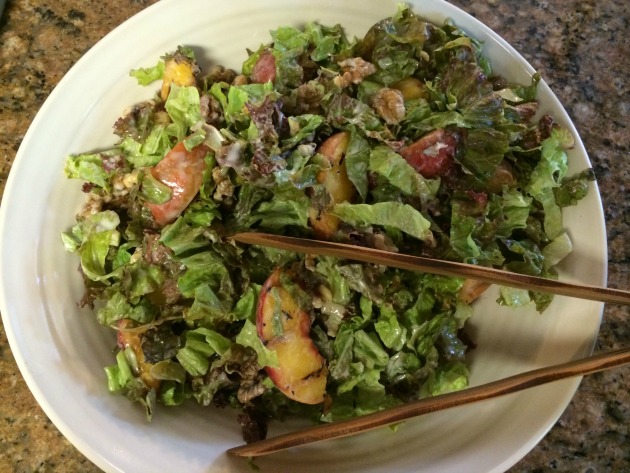 I just spent three days in Hershey Park and while we had a fantastic time, my body was craving unprocessed, healthy food.  Whenever I go on vacation I look forward to a break from cooking, cleaning and laundry but usually after two days of stuffing myself at a breakfast buffet, I'm ready to return to my normal eating routine.  I came home to a new box of CSA vegetables from Jah's, which included some beautiful red leaf lettuce.  Since I'm still in the midst of my summer peach obsession, I knew this salad was what I needed.
One thing that always tastes better homemade is salad dressing.  It's so easy to make.  You can whip up a simple dressing in a bowl with a whisk, but I prefer using the bottom part of my immersion blender.  It's like using a food processor, but smaller and easier to clean.  Plus my kids love pushing the button to help make it.  This dressing is pretty forgiving.  If you like it on the tarter side, add more lemon and if you like it on the sweeter side, add more honey (or sweetener).  If you want a thinner dressing, add more water.
You can use the stone fruit of your choice (peaches, plums, apricots, cherries).  My preference was peaches.  I cut them into eighths and grilled them for about one minute on each side, just until I saw grill marks.  Once they cooled slightly, I tossed them with the lettuce, toasted walnuts and goat cheese dressing.  You could also use other nuts such as chopped pecans or my favorite, pumpkin seeds (pepitas).  This salad is a standout.  If you are having a bbq this summer, this needs to be on your menu.
Peach Salad with Goat Cheese Honey Dressing
Ingredients
Salad:
1 head of lettuce, chopped
3 large peaches cut into eighths
½ cup of toasted walnuts or pepitas
Dressing:
2.5 ounces goat cheese, softened at room temperature
1 teaspoon honey or agave
2 tablespoons extra virgin olive oil
1 tablespoon apple cider vinegar
1 tablespoon fresh squeezed lemon juice
1 tablespoon water
salt and pepper to taste
Instructions
Mix dressing ingredients in an immersion blender, adding more water to thin out. Refrigerate until ready to use.
Heat grill or grill pan. Cook peaches for 1 minute on each side until grill marks appear.
Toss lettuce, peaches, nuts and dressing.
Notes
Adapted from www.skinnytaste.com